Lupe Fiasco Delivers Sharp Criticism of "Ghetto" Stereotypes in His New Song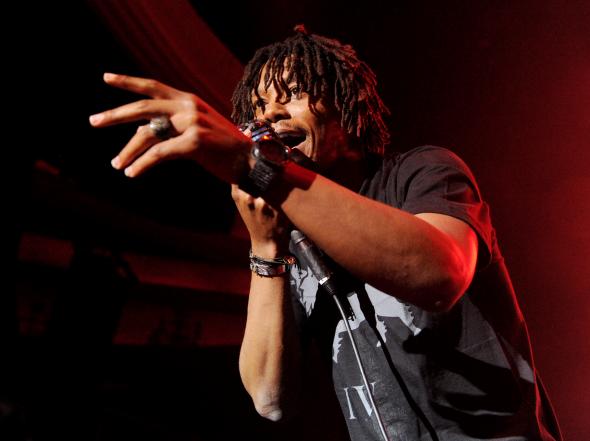 For most of Lupe Fiasco's long and complicated career, hip-hop fans and peers have turned to the Chicago rapper for insightful commentary whenever social injustice affecting the black community is in the news. It's a reputation he mostly embraced … until recently. With 2011's "Out of My Head," featuring Trey Songz, Fiasco started to distance himself from serious subject matter in favor of more radio-friendly topics. Then last year he announced plans to avoid politics entirely on his forthcoming fifth album, Tetsuo & Youth. Subsequent releases—"Old School Love," featuring Ed Sheeran, and several tracks with Ty Dolla Sign—have all fit that direction. But the album's newest single will reassure fans who've missed his sharp tongue and vivid metaphors. Lupe's still got it.
On "Deliver," his latest collaboration with labelmate Ty Dolla Sign, Fiasco tells a story about the fight to get big-name pizza chains to deliver to his neighborhood. It's not because he isn't tipping the pizza delivery guy well enough: Inspired by a line from the 1992 animated comedy Bébé's Kids, Lupe tells the timeless tale of white-owned businesses marginalizing inner-city communities thanks to "ghetto" stereotypes. "The Ghetto was a physical manifestation of hate/ And a place where ethnicity determines your placement/ A place that defines your station/ Reminds you niggas your place is the basement/ White people in the attic," he raps. While the particular instance of such bias may seem trivial on the surface, the song illustrates the way that institutional racism takes a toll on the everyday lives of its victims.
Tetsuo & Youth, after months in record label limbo, will finally see a release on Jan. 20, 2015. And if the rest of the album sounds anything like "Deliver," it could be one of the most important rap records of the year.