Everything You Need to Know About Arca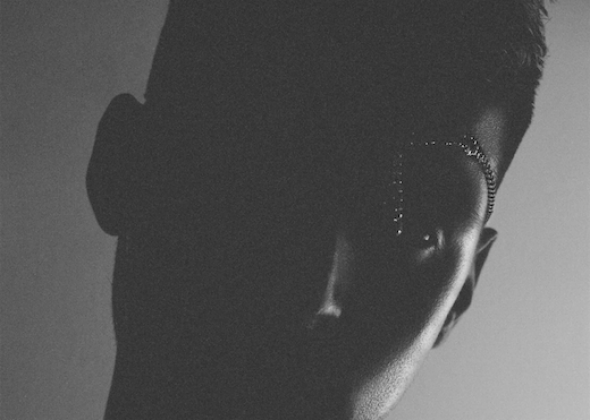 One of the most distinct voices on Yeezus, Kanye West's 2013 abrasive mishmash of sounds, was that of a then relatively unknown 23-year-old Venezuelan artist who produces under the name Arca. But not once do we hear his actual voice on the record; instead, he and West's diverse cast of in-house producers collaborated on four of the album's darkest tracks—"Hold My Liquor," "I'm in It," "Blood on the Leaves," and "Send It Up"—making his glitchy, industrial flourishes his loudest identifier on the album.
Now Arca has released his debut album, Xen, on Nov. 4, just as he's in the middle of co-producing yet another album for a high-profile kindred spirit—this time Björk. But who, exactly, is Arca, and how has he managed to attract the likes of Kanye West, FKA Twigs, and Björk all before putting out his first full-length album? Here's a primer.
Arca got his start in 2012, when he put out three impressive EPs, Barón Libre, Stretch 1, and Stretch 2, that each played with trip-hop structures reminiscent of those Massive Attack championed in the early '90s. After being recruited for Yeezus—and sending Kanye "the strangest music [he] had," as he describes the creative process—most would've likely tried to capitalize on the attention to build buzz for their own solo work. But rather than ride that wave, Arca remained mostly under the radar for the whole of 2013, not even granting any interviews. He spoke, instead, solely through the music, releasing his &&&&& mixtape, a 25-minute symphonic sound collage that turned even more heads. Though the tape contains 13 individual electronica and trap-influenced songs—most shorter than two minutes in length—it plays as one long, fluid track that's as disorienting and intense as the work he did for Yeezus.
But &&&&& and Yeezus weren't the only projects Arca had been a part of in 2013. That same year, after an "inorganic introduction" arranged by his manager and FKA Twigs' manager quickly turned towards genuine mutual appreciation, he began sessions with her for her second release, EP2, collaborating with Twigs on her breakthrough single, "Water Me." It's the pulsating, woozy sound they developed together that weaves in and out of Twigs' debut album, LP1, making a particularly strong impression on standout tracks like "Lights On."
As with Twigs, a large part of Arca's appeal is in his videos. He dreams them up together with his longtime collaborator, director and visual artist Jesse Kanda, who previously directed the video for Twigs' "Water Me" and designed the stunning cover art for LP1. Last year, they developed a seven-part "reflection of [their] subconscious" shown at MoMA PS1, two parts of which have been released in the form of unsettling, entrancing videos for songs from Arca's &&&&& mixtape, "Knot" and "Harness." Many have likened their partnership to the collaborations of Chris Cunningham and Aphex Twin. But while Cunningham's visuals always felt like extensions of Aphex Twin's work, Kanda's art seems to inform Arca's.
Their two most recent videos for "Thievery" and "Now You Know"—off Xen—match the music closely enough that at times they feel less like visual like visual accompaniment than the music's actual sound waves captured on film. "Thievery," a song that vaguely recalls Major Lazer's "Get Free," stars Xen, a "digitally-rendered, gender-ambiguous character," who twists and gyrates her body to the every vibration of the song as if Arca constructed the beat just for Xen. Similarly, in "Now You Know," a dazzling 360-degree aerial view of an urban fireworks display filmed by a drone in the midst of it, the synths are so explosively aligned with the show that I'd be very surprised if Arca produced the track before Kanda shot that footage.
For most of Arca's ascension in the music world—to the level where he's now co-producing Björk's next album—he's kept himself mysterious. But, recently, he opened up to The Fader for what's become the definitive piece on Alejandro Ghersi, the man who's been working under the alias Arca all this time. It's in that cover story that Arca delved into his sexuality and introduced the world to Xen—a gender-ambiguous identity he's been privately using since he was 13—who serves as both his alter ego and the subject of his new album. Xen's a "very sassy, confident, very feminine side of [Ghersi]," Kanda explains. "It's this kind of ghost. A spirit. Alejandro's spirit."
With that kind of hyperreality at the heart of his music, it's not hard to surmise why a person like Ghersi and a persona like Arca would gel so naturally with Kanye, Björk, and FKA Twigs' own individual creative minds, which they all seem to get completely lost in when they're in the zone. Alongside Twigs, Björk, and Kanye—all praised for both their avant-garde music and their subversive approaches—Arca fits right in as he continues to thwart gender binaries in both his personal life and his music. As enviable as his résumé already is, it seems he's just warming up.