The Smart, Talented, and Utterly Hilarious Leslie Jones Is SNL's Newest Cast Member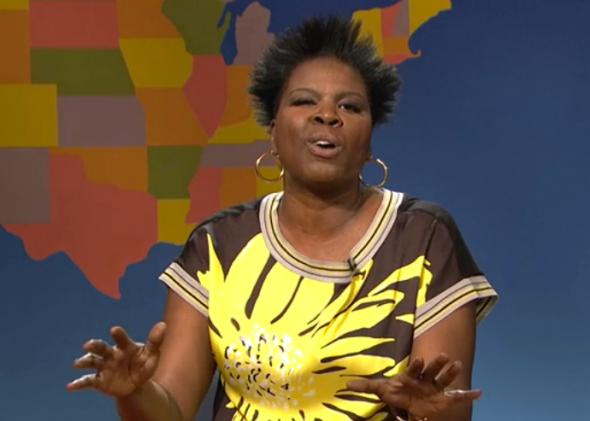 The latest dispatch from Lorneland involves an auspicious promotion: Leslie Jones, an SNL writer for the past year, has been hired as the show's newest cast member. Jones will be a featured player beginning with this week's episode, hosted by Jim Carrey.
The move isn't entirely unexpected: SNL loves to promote from within, and Jones was clearly being groomed for greater exposure via a handful of appearances on Weekend Update. Still, her ascent has been swift. Late in 2013, when long-gestating concerns with SNL's race problem had reached a fever pitch, show producers conducted a kinda-secret casting call to find a black female cast member. Sasheer Zamata won the spot, but Jones impressed in her audition and was offered a writing position. Her promotion Monday adds to the show's burgeoning number of black cast members: along with Zamata, Kenan Thompson, and Jay Pharoah, Jones joins Michael Che, the newly anointed Update anchor who was also promoted from a writer position.
But as good as the move is for SNL's diversity, it's even better for its comedy. Jones is a fiercely independent performer whose brash and unapologetic riffs can ruffle feathers—a welcome risk for a show that's become too sanitized and vanilla to produce genuinely edgy sketches. Here are a few choice clips from the comedian:

Her Update appearance in May, which featured multiple slavery-related jokes, provoked outrage in several quarters, and even spurred Jones to write a lengthy rejoinder defending the segment.
Jones showing off her stand-up chops in a hilarious bit on the personalities of her posse.
Jones' set on Seth Myers, where she talks about texting, booty calls, and the ill-advised move of wearing Crocs to a breakup.