Chris Pratt and Pete Davidson Steal the Show in SNL's Season Premiere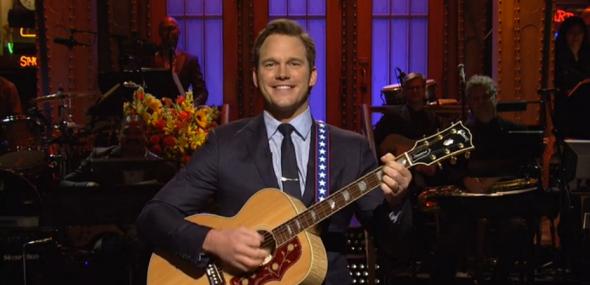 Saturday night marked the premiere of SNL's 40th season, and Chris Pratt hosted what I thought to be one of the better, more consistently funny episodes in a good while. There were the usual half-baked sketches, but on balance Lorne Michaels' off-season changes paid serious dividends, with the cast clicking on all cylinders and the writing seeming crisper and more daring.
Things got off to a good start with Pratt's monologue, a musical introduction that capitalized on his trademark blend of everyman charm and debonair. He poked fun at his fluctuating physique—"I've gone from skinny to fat back to skinny back to fat"—and bantered with wife Anna Faris, who was in the audience.
Pratt shone elsewhere as well—his sketch with Aidy Bryant, who's emerging as one of the cast's brightest stars, was a hilarious bit in which both did their best "Booty Rap"—and a short video spoofed his summer hit, Guardians of the Galaxy.
The episode also included two auspicious debuts, for Weekend Update anchor Michael Che and cast member Pete Davidson. Che is wildly talented, but his appearance was a bit rocky: he flubbed a few lines and took a while to get into a rhythm with Colin Jost. That's not unreasonable—the Update spot is notoriously difficult—and Che's winking deadpan eventually yielded some good belly laughs.
Davidson, on the other hand, was the revelation of the episode. The cast's youngest member—and the first SNL player born in the '90s—the 20-year-old turned in a raucous, digressive appearance as the Update's "resident young person." There's a bit of Jimmy Fallon in him—the precocious bad boy who can't help but smile during sketches. It's yet to be seen if that shtick becomes grating or genuinely charming, but he was certainly a welcome presence in the premiere, providing the show with the personality it's lacked since the departure of Hader, Samberg, and Sudeikis. Not bad for a guy who can't yet legally buy a beer.