Thom Yorke Just Dropped a New Album Out of Nowhere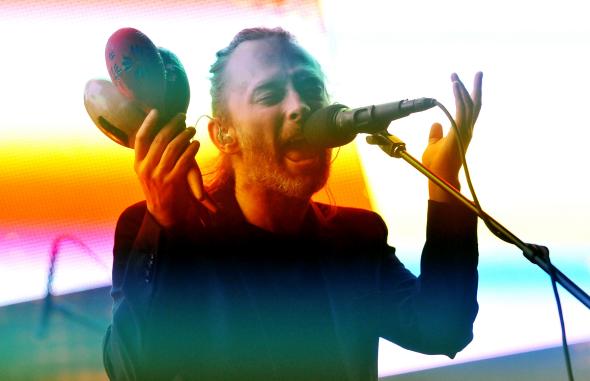 Days after tweeting a photo of a mysterious blank white vinyl record, Thom Yorke has suddenly released a new album, and it's available to download now.

The new album, called Tomorrow's Modern Boxes, is eight tracks, and it is available in two formats: As a deluxe vinyl record with a digital download, for £30 pounds (or about $48), or as a download via BitTorrent, for $6. (You can buy it in either form now via the button below.) Yorke and longtime producer and collaborator Nigel Godrich explained that they hope that distributing the album through BitTorrent, if it works, will allow artists to sell their own work without having to go through labels or online stores or having to pay for hosting. As with the pay-what-you-want album In Rainbows, the success or failure of this method should have far-reaching implications for the struggling music industry:
As an experiment we are using a new version of BitTorrent to distribute a new Thom Yorke record.
The new Torrent files have a pay gate to access a bundle of files..
The files can be anything, but in this case is an 'album'.
It's an experiment to see if the mechanics of the system are something that the general public can get its head around …
If it works well it could be an effective way of handing some control of internet commerce back to people who are creating the work.
Enabling those people who make either music, video or any other kind of digital content to sell it themselves.
Bypassing the self elected gate-keepers.
If it works anyone can do this exactly as we have done.
The record itself is Yorke's first solo album since his solo debut The Eraser, and his first album since last year's Atoms for Peace LP Amok. You can watch a video for the album's first track, an Eraser-like heavily electronic cut called "A Brain in a Bottle," below.