Exclusive Premiere: Obama Returns to Key & Peele in a Great New Sketch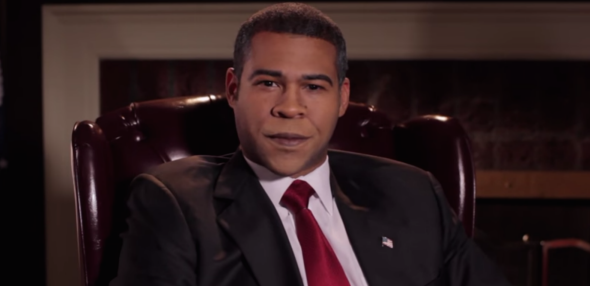 The Season 4 premiere of Key & Peele, which airs tonight on Comedy Central, finds the comic duo of Keegan-Michael Key and Jordan Peele in typically sharp and relevant form. Over the course of several sketches, they tackle female empowerment, military politics, homosexuality, and, of course, race—a topic they've come to comically dominate since their show premiered in 2012.
One sketch in particular homes in on their signature subject matter, and you can watch it here first, below.
Peele is back with his spot-on Obama impersonation, but this time, his raucous anger translator Luther is nowhere to be found. Instead, Obama is on his own, first closing a press conference, then acknowledging supporters as he leaves the stage. The camera follows him as he practices some unabashed "code-switching," presenting a noticeably warmer side for the black folks in his crowd of admirers than the white ones.
Premise-wise, it's among the least complex of the episode's sketches. The joke is apparent almost immediately, and it builds only slightly from there to the kicker. But as with the wildly popular and similarly no-frills "East/West College Bowl," it's the specificity that makes it work so well—the knowing, insider-y quips ("Can never forget about that. 'Cause that's all we got!") and the permanently plastered-on smiles of all the extras in the background. While Key doesn't bring out Luther, his own moment with Obama, which plays on the biracial backgrounds of both men (not to mention the president), is especially clever.
It's also a reminder that Key and Peele are among just a handful of current big-name comedians with the ability and sensibility to tackle race from a variety of subtle angles. Code-switching, in particular, is a specialty—see also one of the show's very first sketches, "Phone Call." These two see the nuances of black American identity like few others, and that perceptiveness is one of the reasons they're as funny as they are.