You Should Be Listening to Sbtrkt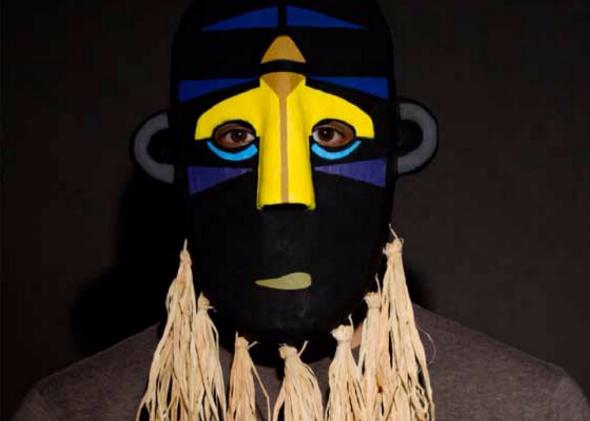 On Tuesday, Oct. 7, Sbtrkt will release his much awaited sophomore album, Wonder Where We Land.* If that name (which he styles SBTRKT) doesn't immediately call to mind any of his work, now is the best time to get familiar with the masked London producer who's received praise from the likes of Thom Yorke, Diplo, and Drake. Because if the reception of his second album is anything like the reaction to his 2011 self-titled debut, Sbtrkt seems likely to earn a place alongside the best of his generation of British electronic artists, with acts like James Blake, Jamie xx, and Disclosure.
Though Aaron Jerome (the man behind the Sbtrkt mask) got his start as a nu-jazz artist, prior to 2010 he was a virtual unknown outside of a small corner of SoundCloud. It was on his SoundCloud page that he uploaded "Timeless," an ethereal mash-up of two Goldie songs that, along with subsequent remixes, soon attracted the attention of BBC radio DJ Mary Anne Hobbs, who invited him on her show for an impressive 16-minute guest mix. It was around that time that Jerome started to develop his chameleonic sound and construct Sbtrkt's elusive persona: He recruited A Hidden Place to design his artwork and the tribal masks with which he's so firmly associated himself. At the same time, he began working on tracks with DJ Graeme Sinden (of The Count & Sinden) as well as his future Young Turks labelmate Sampha, then an up-and-coming vocalist and producer (Sampha is now best known for his work with Drake).
Following a couple EPs, some one-off tracks, and several remixes, Sbtrkt came out with his debut album in 2011, a release that landed him on a number of publications' lists of the best albums of that year. The self-titled LP illustrated Jerome's versatility better than any of his previous work, and it also revealed his knack for spotting new U.K. talent. At the time of its release, Jessie Ware was still a year away from her own debut and without an established following, but Sbtrkt spotted her and featured her smooth vocals on two of the album's best tracks, "Sanctuary" and "Right Thing to Do."
For his second album, Jerome's still bringing lesser-known artists to larger audiences—as on his newest track featuring soul singer Denai Moore—and this time he's also shining some spotlight on American artists. On a fantastically moody new track, "Higher," he's let buzzing multihyphenate Atlanta artist Raury's hazy flow do all the talking. And unlike his first album, which featured no rap, his latest album seems influenced by the success of Drake's unexpected remix of "Wildfire": Along with "Higher," the Kid Cudi-esque "Voices In My Head" includes a hook and verses from Harlem "Trap Lord" A$AP Ferg.
While more notable collaborations—with Vampire Weekend's Ezra Koenig on the funky "New Dorp, New York," with Chairlift's Caroline Polachek on the feverish "Look Away," and with Radiohead's Thom Yorke (under the moniker Sisi BakBak) on the 2012 remix of "Hold On"—might indicate that fame for Jerome is fast approaching, don't expect the mask to come off anytime soon. In the past, he's explained its presence as a way to "let the music sell itself." It's a strategy that wouldn't fly for many artists who need to show their faces to make themselves relatable to audiences. But, for an artist whose sound is as shape-shifting and wildly unpredictable as Sbtrkt's, there's no need to look underneath the costume: Jerome's made the music his self-portrait.
Update, Sept. 23, 2014: The release date for Wonder Where We Land has been changed to Oct. 7.