Ryan Adams' New Song Is a Reminder That He's One of His Generation's Best Songwriters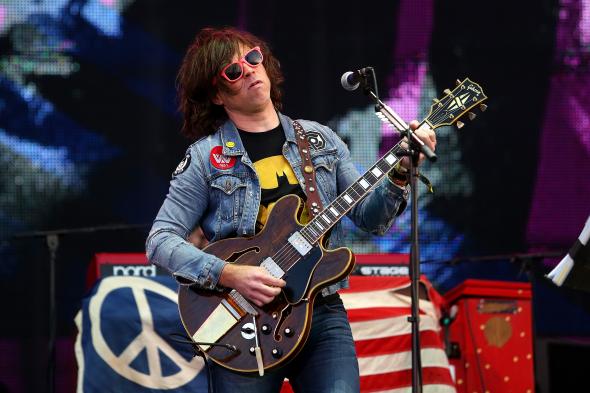 Ryan Adams has had a hand in two of the year's best albums: Jenny Lewis' excellent third solo album The Voyager, which he produced, and his own self-titled solo album, his 14th, released on Sept. 9. His album is one many thought would never happen: After 2008's Cardinology, he was diagnosed with a debilitating ear disease, and later he scrapped the Glyn Johns–produced follow-up to 2011's Ashes & Fire. This new album packs a grittier punch than his mostly acoustic previous album, but it's not without its share of devastating ballads. On Wednesday, Adams shared the lo-fi video for one such song, "My Wrecking Ball."
Not to be confused with the Miley Cyrus track with a similar name, this take on the wrecking ball motif finds the singer grieving over a much different kind of loss. When Adams first debuted the track back in July at the Newport Folk Festival, he described it as "like a protest song, protesting the death of my grandmother," who passed away in 2011. The song has shades of Springsteen's "Drive All Night," with lyrics haunted by a loved one's absence. ("I wish I could call you/ I wish you were still around," Adams sings.) "My Wrecking Ball" is the latest proof that Adams is one of his generation's strongest songwriters, and you shouldn't wait to give his new album a listen.