Beyoncé's 10 Greatest Live Performances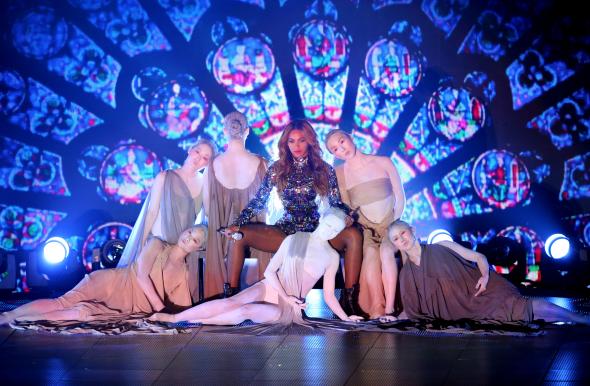 On Saturday, HBO will air Beyoncé and Jay Z: On the Run, the concert special for those of us who weren't lucky enough to snag tickets to the duo's first full-fledged tour.* In anticipation, we've pulled together some of her best live performances to date—leaving out her tour performances, of which there are many, in favor of one-off, standout numbers. We've ranked them in reverse order, from No. 10 to her best ever.
10. "National Anthem," Super Bowl Press Conference (2013)
9. "Countdown," Late Night with Jimmy Fallon (2011)
A more pared-down performance of an upbeat song than we usually get from Beyoncé, and it's the simplicity that makes this such a treat. Backed by The Roots, Beyoncé dials down her trademark intensity and looks like she's just having fun singing about her "boo."
8. "Emotion," Celine Dion: A New Day Has Come (2002)*
Beyoncé shared the stage with her fellow members of Destiny's Child and powerhouse Celine Dion, but she's the one who truly shines here, in a rendition of the Bee Gees ballad. Her vocals are in top form—look out for that impressive note she hits toward the end.
7. "Proud Mary," Grammy Awards with Tina Turner (2008)
Aside from Diana Ross, Beyoncé's most direct inspiration is probably Tina Turner, so it was only fitting that she would pay tribute by performing alongside the musical icon. Their combined star power makes for a rousing routine.
6. "Beyoncé Medley," Super Bowl Halftime Show (2013)
Excess at its best: With a brief and very welcome assist from former Destiny's Child members Kelly and Michelle, Beyoncé performs an epic 13-minute medley. Many of her greatest hits are here—"Crazy In Love," "Single Ladies," "Halo"—and the Super Bowl Halftime Show feels electric in a way it hadn't in a long time.
5. "Purple Rain Medley," Grammy Awards with Prince (2004)
Prince and Beyoncé go perfectly together—he with his bright purple suit and unparalleled guitar licks, she with her flamingo-pink mini-dress and boundless energy.
4. "Single Ladies (Put a Ring On It)," MTV Video Music Awards (2009)
The slow burn, seductive reworking of "Sweet Dreams" into "Single Ladies," the huge chorus line of dancers moving in Fosse-inspired unison on multiple planes—everything about this performance is grandiose, and exquisitely so.
3. "The Beautiful Ones"/ "Sex On Fire," Glastonbury Festival (2011)
Queen Bey gave one of her most emotionally wrought performances to date when she took on The Purple One and Kings of Leon back to back. Every moment rings true to the feel of each song in turn.
2. "Beyoncé Medley," MTV Video Music Awards (2014)
For 16 amazing minutes, Beyoncé made the rest of the sluggish awards show that preceded her performance (almost) worth it. Sweeping through nearly every track from her game-changing Beyoncé album, she demonstrated again why they call her Queen.
1. "Run the World (Girls)," Billboard Music Awards (2011)
Beyoncé's disappointingly opaque HBO documentary, Life Is But a Dream, treated the intense preparation for this performance as a career-defining moment—and the result is nothing short of that. From the commanding opening pronouncement, "Ladies, our revolution has begun," to the precise pairing of dazzling visual effects and dancing bodies that would make the King of Pop proud, everything about the performance is flawless.
Correction, September 18, 2014: This post originally misstated the premiere date of HBO's On the Run concert special. This post also originally misstated the title of the song "Emotion."