Hear Three New Songs From Jens Lekman (Spoiler: They're Charming and Wistful)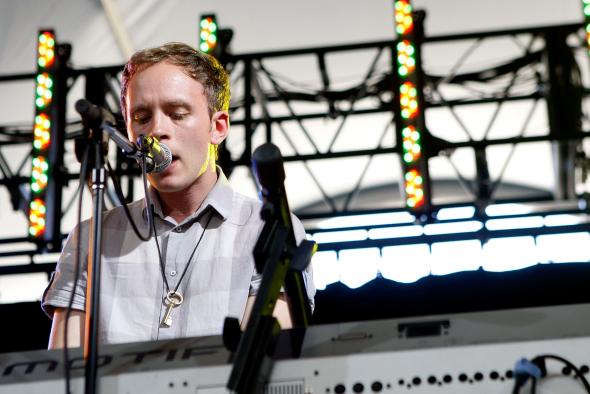 Jens Lekman, the singer-songwriter that Slate's Stephen Metcalf once called Sweden's greatest musical export, is at work on his follow-up to 2012's heartbreaking I Know What Love Isn't, and he already has some leftovers. To make use of them, he's put together a new mixtape that includes three of the songs: "WWJD" (which kicks off the mix), "What's That Perfume That You Wear?" (which appears at 15:25), and "I Remember" (which closes things out at 26:25).

Lekman also posted a typically charming note explaining the inspiration for "WWJD" and the mix:
While travelling through midwest America some time ago I stopped at a gasstation and bought a WWJD bracelet for $1.99 and insisted that it stood for 'What Would Jens Do?'. I would look at it when I felt indecisive, think about what Jens really would do and then do the opposite of that. I thought that would be a good way to find some new paths in life, and to get away from the paths I kept taking that didn't lead me anywhere good.
WWJD is a song about regrets, learning from your mistakes, and bettering yourself. I wrote it last year, recorded it quickly and felt it didn't fit in with most of the other songs I was writing. Together with 'What's That Perfume That You Wear?' and 'I Remember' they weren't adhering to the rules I had set up for my next album but they were also too good to forget. So I weaved them in exclusively on this mixtape where they are stations on a longer journey, where loops and smaller fragments, ideas for songs and favourite songs by others swoosh by outside the window. Feel free to open that window and feel the breeze in your hair.
Aside from "WWJD," "What's That Perfume That You Wear?" is a steel-drum-heavy tune with Lekman reflecting on a scent that brings him back to the good days of a now-doomed love. "I Remember" begins on a similarly nostalgic note, with Lekman reflecting on a childhood vacation to Italy, but it then takes an unexpected turn as Lekman remembers realizing that not all his classmates were so privileged.
You can check out the complete tracklist for the mixtape below.
0:00 - Jens Lekman - WWJD
3:05 - Bunny Maloney - Baby I've Been Missing You
6:18 - David Byrne - Theodora Is Dozing
7:59 - The 11:08 Train Swooshes By
09:52 - Jhene Aiko - Stranger
11:34 - Jennifer Lara - Our Love
13:10 - Georges Delerue - Theme from Camille
15:25 - Jens Lekman - What's That Perfume That You Wear?
18:47 - Ralph MacDonald - The Path
20:33 - All Your Sorrows Reversed
26:25 - Jens Lekman - I Remember