Prince Addresses the Social Media Age on New Song, From One of Two New Albums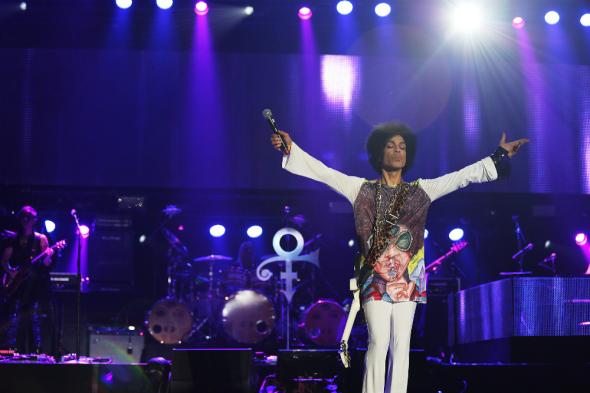 Ending his longest-ever break between albums, Prince announced this morning that he is coming back soon with not one but two full-lengths. One is titled Plectrum Electrum, which was recorded with new band 3rd Eye Girl and will feature a few previously shared tracks, including "Fixurlifeup." The other is a solo album called Art Official Age, and it will include "The Breakdown" and "Breakfast Can Wait." Both are due on Sept. 30.

He's also just shared another new song from the solo LP, and—in keeping with the album's title—it comments on the age of reality TV and social media. Perhaps inspired by his recent activity on Twitter, Prince ponders a "brand new age" with "all of our lives a stage." And as in St. Vincent's great "Digital Witness" from earlier this year, the lyrics have the singer pondering questions like, "Does it really even matter if it ain't on the stage?"
On the bridge, a female voice suggests that Prince has been cryogenically frozen for decades and is just now thawing out—an image that more or less describes the very early-'80s-Prince sound of the track. Over vintage-sounding drum machines, acoustic guitars, and a typically funky bass line, Prince sings in multi-tracked harmonies about escaping this age and getting back to more old-fashioned pleasures, like "getting high on something that doesn't require clouds." More specifically, Prince is back to singing about the same activity he's mused on in song after song after song after song after song: bathing with a lover. ("Every time you catch her singin' in the shower, you should go and get a flower and rub it on her back," he sings.) Some pleasures are timeless.
Advertisement

TODAY IN SLATE
Politics
The Irritating Confidante
John Dickerson on Ben Bradlee's fascinating relationship with John F. Kennedy.