The Best Fictional Mixtapes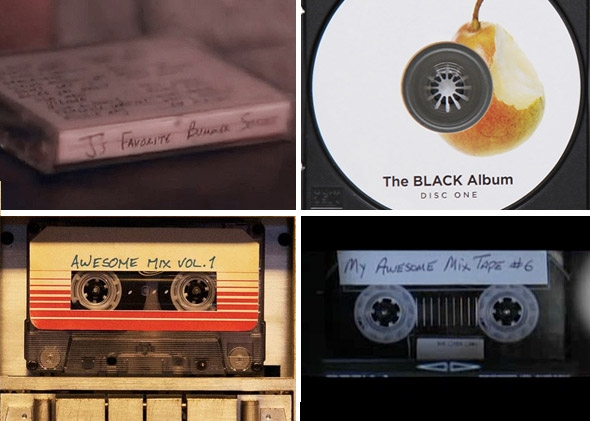 Some of the success of Guardians of the Galaxy's hit soundtrack—which is the No. 1 album in the country as I write this—can probably be attributed to the way the music is used in the movie. The album represents not just a collection of songs that appear in the film but also a mixtape passed down from one character to another. When you listen to it, you're not just listening to the movie's soundtrack, you're also (at least ostensibly) listening to Peter Quill's Awesome Mix Vol. 1, a gift from his long lost mother.

In this way, the mixtape at the center of Guardians of the Galaxy is unusual, but it's not the first of its kind. Awesome Mix Vol. 1 might remind viewers of, for example, My Awesome Mix Tape #6 from Boogie Nights, J's Favorite Bummer Songs from Adventureland, or the menses-themed Period Mix from No Strings Attached. (Sample tracks on the latter include "Even Flow," "Sunday Bloody Sunday," and "Bleeding Love.") Mixtapes have popped up in movies and novels for many different purposes: They've served as a way for characters to offer advice to their children (as in Submarine), to reveal new facets of themselves (as in Gregory Galloway's As Simple as Snow), and to drop romantic hints for their crushes (as in the short film Mixtape and, of course, Bring It On). To quote Rob Sheffield's 2007 memoir, Love Is a Mix Tape: "There's always a reason to make one."
Of course, though the books and movies above all used mixtapes as plot devices, almost none of them reveal the actual tracklists. (Even Nick Hornby's High Fidelity, in which the main character is obsessed with mixtapes, doesn't reveal a full tracklist in either the original novel or the movie adaptation.) Below, in no particular order, we take a look back at some of fiction's best mixtapes, and assemble their tracklists as best we can.
Source: Boyhood
Mixtape: The Black Album
In Boyhood, Ethan Hawke's character gives this mixtape to his son, Mason Jr. (Ellar Coltrane), on his 15th birthday, as a way to imagine what it would be like if the Beatles stayed together. In real life, Hawke originally made the same three-disc compilation of the Beatles' best solo work for his own daughter, Maya. He then recreated The Black Album for the film, including accompanying liner notes. (Note: Several songs are not available on Spotify.)
In addition to being the source of the film's hugely popular soundtrack, Peter Quill's Awesome Mix Vol. 1 also represents Peter Quill's last connection to his mother. However, the official soundtrack release also adds a couple of songs that are clearly not on Awesome Mix Vol. 1. We've recreated the actual mix as best we can below.
In a particularly tender moment from the first act of Robert Lopez and Jeff Marx's Sesame Street–inspired musical Avenue Q, Princeton makes his first move on neighbor Kate by giving her a two-sided tape. In the song above, she analyzes the tracklist—"You've Got a Friend," the theme from Friends, "That's What Friends Are For"—and at first she thinks it's his way of putting her in the friend zone. But when she gets to Side B, things begin to look up. (Note: The Beatles' "Love Me Do" and "Yesterday" are not available on Spotify.)
As part of a Secret Santa gift exchange, The Perks of Being a Wallflower's Charlie meticulously curates a two-sided mixtape for his close friend, Patrick. It's named for the second side, which Charlie describes as "winter kind of songs" that he hopes will make Patrick "feel like he belongs to something whenever he's sad." (Note: The Beatles' "Blackbird" is not available on Spotify.)
In one scene from Glyn Dillon's 2012 graphic novel about a young woman living with OCD, the titular character becomes wrapped up in a compilation of songs whose titles begin with variations of "Oh, …." (Note: Morrissey's "Oh Well, I'll Never Learn," Yoko Ono's "Let Me Count the Ways" and "O'Sanity," Z.Z. Hill's "Oh Darling," John Lennon's "Oh My Love," and The Beatles' "Oh! Darling" are not on Spotify.)
Based on Alan Warner's 1995 novel of the same name, Morvern Callar tells the story of a woman named Morvern (Samantha Morton) whose boyfriend commits suicide, leaving behind an unpublished manuscript and a mixtape titled Music For You. That mixtape, as some have noted, also doubles as the film's soundtrack. (Note: "Gamelan Drumming," Holger Czukay's "Cool in the Pool," and Lee "Scratch" Perry's "Hold of Death" are not on Spotify.)
In Rainbow Rowell's YA novel about unconventional young love, music plays a central role in igniting a relationship between the titular characters. And after Park introduces Eleanor to The Smiths and Joy Division in the first of many mixtapes he makes for her, she comments that she could listen to the first three seconds of "Love Will Tear Us Apart" "over and over." That same night, he makes her a second mixtape with nothing but that song on loop.