Hear Jim James, Elvis Costello, and Marcus Mumford's Take on Bob Dylan's "Nothing to It"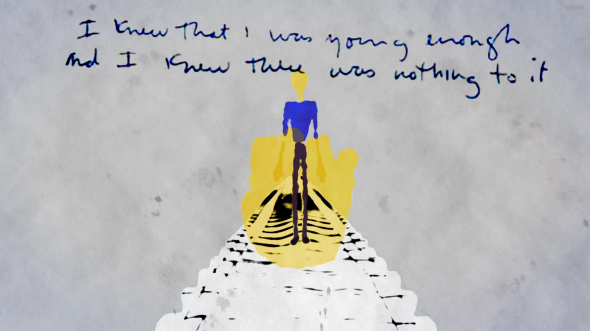 If you are T Bone Burnett, and Bob Dylan's publisher asks if you want to make an album from an untouched box of Dylan's lyrics from 1967, then the answer is unequivocally yes. After taking on the task last fall, Burnett rounded up a troupe of musicians to set the lyrics to music and record the tracks. The first 20 songs comprise the forthcoming album Lost on the River: The New Basement Tapes, and the first preview of the album, new track "Nothing to It," is available to stream today.
Led by Jim James of My Morning Jacket, the track also features several musicians unaccustomed to being in the background: Elvis Costello, Marcus Mumford, Dawes' Taylor Goldsmith, and Rhiannon Giddens of the Carolina Chocolate Drops. On the album, the musicians take turns as bandleader, shuffling in and out of supporting positions. Burnett says in a statement on the album's website that he set out to find not just talented musicians, but "music archaeologists"—"artists who know how to dig without breaking the thing they are digging."
In many ways the project is reminiscent of Mermaid Avenue, the three-volume project that had Wilco and Billy Bragg write music for previously unrecorded Woody Guthrie lyrics. Mermaid Avenue had the blessing of Guthrie's daughter Nora, and Lost on the River has Dylan's blessing.* Dylan wrote the lyrics at around the time when he was recording The Basement Tapes, and Burnett strived to capture their "soulful and playful" mood for the new album.
Lost on the River features just half of the tracks recorded for the project, so it wouldn't be too far-fetched to expect a second volume down the road. But for the time being, the album is out on Nov. 11 and available for pre-order now, with a documentary of the recording sessions set to air on Showtime on Nov. 21.
Correction, Aug. 19, 2014: This post originally misstated that Woody Guthrie gave Mermaid Avenue his blessing. It was his daughter, Nora, who gave her blessing for the project.