Here's What You Need to Know About 5 Seconds of Summer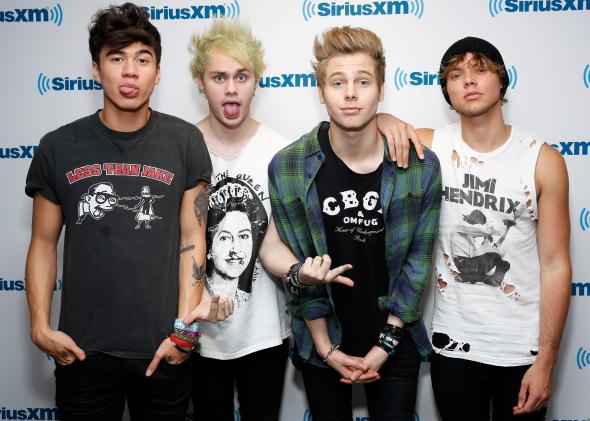 5SOS formed in 2011 while three of the group's members, lead singer Luke Hemmings, bassist Calum Hood, and guitarist Michael Clifford, attended Sydney's Northwest Christian College together. There, they began uploading acoustic covers of pop songs to their then fledgling YouTube channel—all of which you can still view. But it wasn't until the three posted a video of themselves covering Chris Brown and Justin Bieber's "Next to You" that the group started to build an online following. Shortly thereafter, the band added drummer Ashton Irwin to their current lineup.
The group then released an EP with four original songs, 2012's Unplugged, with no record label and next to no promotion aside from a DIY social media push. They did have a publishing deal with Sony, however, and soon signed with the same management company that represents One Direction. The EP's lead single, "Gotta Get Out," charted at No. 3 on Australia's iTunes chart, but it received a considerable boost when One Direction's Louis Tomlinson tweeted a link to 5S0S's performance of the song. (The tweet was retweeted almost 80,000 times.) Later that year, One Direction's Niall Horan did the same for "Out of My Limit," a song from 5SOS's second EP, Somewhere New, and the video has racked up more than 5 million views to date.
In a logical next step, 5SOS spent 2013 on tour opening for One Direction, and soon signed with Capitol Records. And while their boyish charm and tween-girl-targeted sex appeal have been their obvious selling points so far, 5SOS insist they're not a boy band. "We play guitars. We're rockier," the band says in response to incessant One Direction comparisons. To their credit, they do play their own instruments and write the majority of their songs (with some help from All Time Low lead singer Alex Gaskarth and others), and their sound is more pop-punk than One Direction's. In terms of record sales, though, 5SOS are following right in 1D's footsteps: Their debut album actually had a better first week than One Direction's debut, Up All Night, which also went right to No. 1.
Much of 5SOS's success can likely be attributed to lyrics that seem tailor-made for the Tumblr generation ("I wish that I was 18," they sing, "Do all the things you read in a magazine"). In particular, their album's lead single, "She Looks So Perfect," boasts a just-suggestive-enough hook ("She looks so perfect standing there/ In my American Apparel underwear") and a video that offers a surprisingly refreshing take on body image (it celebrates half-naked bodies of all shapes and sizes) of the kind you don't often see for this demographic.
5SOS aren't as big as One Direction in the U.S. just yet, but it may take as little as one song—a hit akin to One Direction's "What Makes You Beautiful"—to bring them to that level. Their latest single, the tender breakup ballad "Amnesia," tries to mimic the feel of One Direction's "Story of My Life," but it isn't nearly as thoughtful. Album cut "Never Be," on the other hand, gets that tone just right, while the ultra-catchy "Good Girls" ("Good girls are bad girls that haven't been caught," the chorus declares) has chart-topping potential—without being pushed as an official U.S. single, it reached No. 34 on the Hot 100 earlier this summer.