A Funky Ode to New York City Women by Sbtrkt, Featuring Ezra Koenig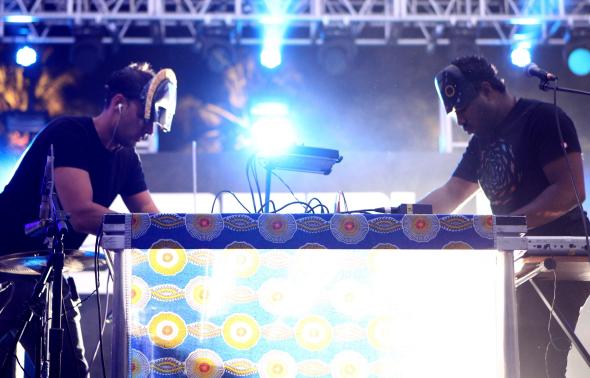 Three years ago, Aaron Jerome released a wonderful sonic collage under the name Sbtrkt (he styles it SBTRKT, and pronounces it "subtract"). It was one of the best albums of 2011; Slate's music critic Carl Wilson named the album's Little Dragon collaboration, "Wildfire," one of the best songs of that year. Since then, Jerome, who wears masks when he performs and shuns personal publicity, has shared some new material—an instrumental EP, Drake remixes, and one-off tracks with Sampha—but nothing that suggested a follow-up album was imminent. Until today, when Sbtrkt announced a sophomore album, Wonder Where We Land, with a brilliant first single featuring Vampire Weekend's Ezra Koenig.
"New Dorp, New York" isn't an attempt to duplicate the sparse, spaced-out sounds of Sbtrkt's first album. Instead, the song pairs sporadic click-clacks, quivering bass, and mercurial tempo changes with auto-tuned spoken word about New York City staples—"peak of the Empire," "Top of the Rock"—and Koenig's smooth-sung praise of the proverbial Manhattan woman who's "got the city to run." The result is a funky earful that has me excited for Wonder Where We Land.
There's not yet a release date, but you can see Sbtrkt's once-again fantastic album artwork below: