Where Do I Start With the Zombies?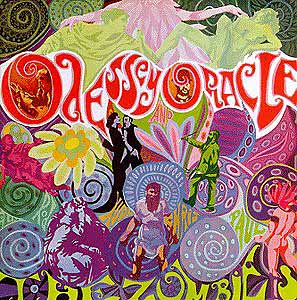 If you like the Beatles, the Kinks, and the Beach Boys, it is more or less inconceivable to me that you wouldn't love the Zombies. The band formed in 1962 in St. Albans, England, led by two then-17-year-olds: Rod Argent, on piano and keyboards, and Colin Blunstone, on guitar. (Both sang.) They had their first hit just two years later: "She's Not There," which was their only top 40 hit in the U.K. and reached No. 2 on the Billboard charts in the U.S. They followed that with a string of lesser performing singles and then a studio album, which was called Begin Here in the U.K. and The Zombies across the Atlantic. A mix of covers and originals, the album features several lovely tracks—including a wonderfully languid take on Gershwin's "Summertime"—a few of which are highlighted below.
The band's zenith, though, came in 1968, with their sophomore album, Odessey and Oracle (the misspelling is supposedly a designer's error). The record is genuinely one of the best pop albums of the 1960s, from the oft-covered opener "Care of Cell 44" to the stunning closer, "Time of the Season." That latter song you have certainly heard before: It reached No. 3 in the U.S. and has since become a staple of oldies radio stations. Sadly, the band, disappointed by their lack of commercial success, broke up before the song caught on, and, save for a 1997 reunion, the original lineup was done for good. (Original guitarist Paul Atkinson died in 2004.)
Blunstone and Argent have recruited new musicians and put out an album as recently as 2011, but the following top 10 culls only from the band's golden age. The simplest place to start with the Zombies is Odessey and Oracle—and Mad Men fans new to the band will be happy to hear that "This Will Be Our Year" is on that album—but those who want an overview, or who prefer to sample the band's music on YouTube before dropping a few bucks at Amazon or elsewhere, will, I hope, be won over by the songs below.
"Whenever You're Ready" (1965)

"The Way I Feel Inside" (1965)
"I Remember When I Loved Her" (1965)
"This Will Be Our Year" (1968)
"Butcher's Tale (Western Front 1914)" (1968)
"Time of the Season" (1968)