This Songwriter Made Jesus Christ Superstar Even Better, By Adding Muppets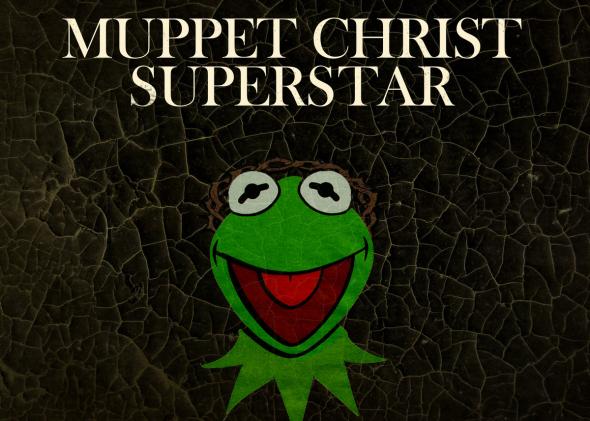 Just in time for the upcoming Easter weekend comes Muppet Christ Superstar, an "album" of nine songs from the 1971 rock opera Jesus Christ Superstar—with the lead characters recast as Muppets. Kermit plays Jesus, of course, with Gonzo playing his backstabbing friend Judas and Miss Piggy filling the role of Mary Magdalene.
And voicing all those roles is 20-year-old songwriter Christo Graham, the mastermind behind the parody and a drama and film student at Bishop's University in Quebec. Graham told us he recorded the album over a couple nights in his bedroom, and although he plays several instruments and has already released five albums of original music (available on Bandcamp), he used karaoke tracks for Muppet Christ Superstar, singing all parts (even the backing vocals, ostensibly from the Electric Mayhem, and Gonzo's chickens). "It makes it a little less impressive," he said, but his voices are a feat on their own, especially considering the original Muppets were voiced by several actors—Dave Goelz as Gonzo, Frank Oz as Miss Piggy and Fozzie Bear, and Jim Henson as Kermit. In fact, I'd argue that Graham's Kermit gets even closer to Henson's original Kermit than Steve Whitmire, who has voiced the frog since Henson's death in 1990.
"My family sort of joked about this album happening for years," Graham explained. He and his four siblings were fans of both Jesus Christ Superstar and the Muppets, and putting the two together just seemed like a natural fit. Certain lines are tweaked to fit in the Muppet universe—on "Pepe's Dream," the prawn dreams of meeting "an amphibian" instead of "a Galilean"—but others remain the same, resulting in a hilarious blend of two worlds. On some songs, the combination seems almost preordained: On "Herod's Song," sung by Rowlf the Dog, the words "fan" and "man" are logically replaced with "dog" and "frog": "I am waiting, yes I'm a captive dog/ I'm dying to be shown that you're not just any frog."
Graham put Muppet Christ Superstar up on Bandcamp on March 5, with the idea of keeping it online for 40 days and 40 nights, to coincide with Lent. Now that it's been downloaded some 700 times, with around 60,000 streaming plays, he's not so sure. He's appearing in a show at the Toronto Fringe Festival this summer, but he already has plans for another album of parody songs: "I've been meaning to do 'Louis Armstrong sings the hits,'" he said. "'Wrecking Ball,' Katy Perry. That's my next goal."