Stream the Flaming Lips' Companion Album to The Wizard of Oz and Dark Side of the Moon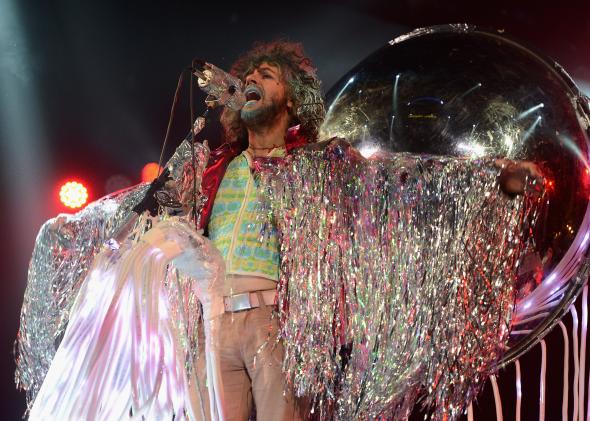 Pink Floyd has always chalked up the eerie synchronicities between The Dark Side of the Moon and The Wizard of Oz as bizarre coincidence, but The Flaming Lips' new companion piece to the classic rock album, Flaming Side of the Moon, is anything but serendipitous: As the New York Times reports, it's explicitly designed to be played in tandem with the Pink Floyd album. And in turn, the band "advises" that listeners enjoy all three pieces, including the film, at the same time.
So how do you sync them up? As with "Dark Side of the Rainbow," it seems that the best method is to press play on the Lips' album at the third roar of the MGM Lion. You can play all three together below, so give it a try and see for yourself whether or not The Flaming Lips were able to make a trippy pop culture pairing into an even more psychedelic trio.
Update, April 1, 2014: Following yesterday's release of Flaming Side of the Moon, the band has released several Funny or Die videos poking fun at their persona. The first, "The Flaming Lips Sell Out," is at least a partial response to Alex Young of Consequence of Sound, who initially assumed the album was part of an elaborate April Fool's Joke following a press release announcement.
The second features Fred Armisen stepping up as a potential replacement for lead singer Wayne Coyne. Check it out below to see the Portlandia star rock out with the band in several different musical styles:
And while the album is apparently real—they also released a video of the recording session in full—this Yoshimi Battles the Pink Robots movie, allegedly from Michael Bay, is definitely not:
"Yesssssss!!!! Fred and us!!!! Love you Fred!!! And all the freaks at Funny Or Die!!! And... Yesss... The Flaming Side of The Moon started off as a very clever and obvious and possibly stupid joke by the genius writers at Funny Or Die. We talked about possible ways it could go. We did one take of the companion piece of music. They let us do whatever we wanted but they also suggested ( which may have been funny as well ) that we could just be bored or over analytical and just talk over it..We all played without actually be able to really hear each other... we ended up doing an abstract formless thang that,yes,plays well along side Pink Floyd's marvelous thang but , I believe , and this is just by accident, it also stands as a strange, emotional, free-form expressionistic peice of music on its own.. #floyd #freaks #flaminglips #funnyordie#fredarmisen #lovemoneyparty#drugmusicthatdestroyshate"