Hear Pharrell, Alicia Keys, and Kendrick Lamar Team Up for "It's On Again"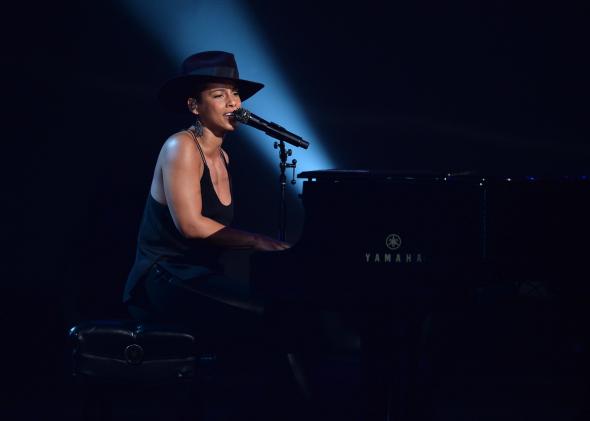 As has become the norm for young adult-targeted action films, The Amazing Spider-Man 2 boasts a soundtrack jam-packed with new music from artists like The Neighborhood, Alicia Keys, Kendrick Lamar, and Pharrell. Today, the track from those last three artists, "It's On Again," debuted via Keys' SoundCloud.
The song begins with Kendrick Lamar nearly screaming, in the hoarse tone he's begun to favor lately, "And everybody knows the story of David and Goliath/ This is bigger than triumph"—perhaps alluding to the expected battles between Spider-Man and the film's overcrowded roster of villains. From there, the song shifts gears, becoming a traditional comic book film anthem. Keys, replicating her "Girl On Fire" attitude, sings lines like "There's no day off for heroes/ And even when I'm tired, 'go' is the only word I know" atop a glimmering disco-infused arrangement produced by Pharrell (with strings by Hans Zimmer). The Lamar verse aside, the song could easily be mistaken for a G I R L leftover. The rest of The Amazing Spider-Man 2 soundtrack is out April 22.