Hear an Exclusive New Song From Ana Tijoux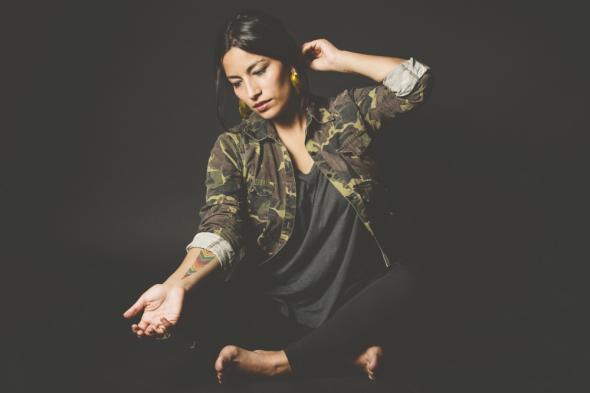 Even if you don't think you've heard of Ana Tijoux, chances are good you've heard her music: The Thom Yorke-approved, French-Chilean rapper got a bit of a boost after her song "1977" soundtracked one of Breaking Bad's famous time-lapse sequences, and since then her last album was nominated for a Grammy.

Now Tijoux is back with a new album, Vengo, out March 18, and we have an exclusive premiere of the track "Rio Abajo" ("Downstream"). For Tijoux, who grew up as an exile from Chile in France after her parents fled the dictatorship of Augusto Pinochet, the political is personal, and that's as true as ever on this song. "Soy el agua/ Soy la vida," she raps ("I am the water/ I am Life"), taking on the voice of the environment, which is under attack but cannot be tamed.
Here are the complete lyrics in English, courtesy Nacional Records:

I am the water
I am Life
I am the crystal fountain
I am the song
I am the key to this surviving world
I am the rain that the downpour and the permanent storm gave you
We give truth, I am the volcano in the sky and the rising water that runs over the icebergs
I am the daughter of the land
I am the hand that sows and cultivates the fruit
I am the mist that immediately splashes
I am the rays of the sun, a piercing rainbow
I'm sweet, I'm salty
I'm the feather of an arrow
I'm Andean with their dances
I'm the faith of my community
I'm their complete promise
I'm the blood of this earth
I'm relief, I'm the cure
I am the purest figure
I'm the snow and I'm the mist
I'm the cascade that captures you
I am the running stream throughout our lives
I am everyone's skin
I am the snowflake the falls from your eyes
I am the strength that comes from the center of the cocoon where seeds are born
You can't name me
You can't weigh my love, it's too big
Don't subject me to your chains
I don't fit in your cage
And your surprises won't trap me
Thought you want to control me
I flow like the river below and you can't dominate me
Don't close your bottles
I cry hot water from the mountains
There is no miner that can extract me
There is no way you can rob me
The fertile abundance that I bring in my luggage
I have to share life on this journey
There is no force that can surpass my nature
There is no machine that has my strength
I sing like this, sweetly whispering in your ear
I am the water
I am life
I am the crystal fountain
I am the song
I am the key of this surviving world
I am the rain that the downpour and the permanent storm gave you
We give truth, I am the volcano in the sky and the rising water that runs over the icebergs
(chants until the end)
I want to go to the sea where the sun hides
To the horizon where the mountain falls
I want to see the British star
That hides the rain of illusions
Correction, March 7, 2014: Due to a miscommunication with the label, this post originally translated the song's title ("Rio Abajo") as "The River Below." The official translation is "Downstream."