Thomas Newman Should Finally Win Best Score This Year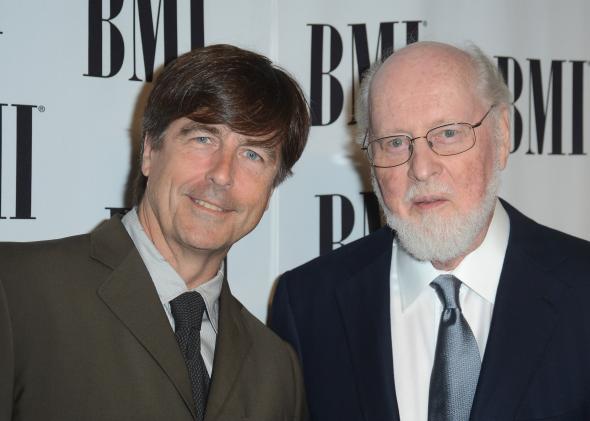 Movie scores present an intractable problem for a music critic. They are clearly art objects in their own right, and yet they are inextricably linked to the images for which they were created. Though costuming, makeup, and cinematography can be considered somewhat discretely in a given film, no aspect of moviecraft survives—and, if all-John-Williams concerts are any measure, thrives—alone as readily as the score. Is judging them apart from their function fair?
The Academy divides its consideration equally between function and independent artistry, at least in theory. Its official Oscar criteria advise that a "work's eligibility shall be evaluated on its effectiveness, craftsmanship, creative substance and relevance to the dramatic whole."
But in parsing these nominations, I'm going to privilege independent form over function—most immediately because I haven't seen all the films listed, but more importantly because the impressive slate of composers assembled here have little control over the quality of the final film anyway. While function matters, composers also deserve for their music to be appraised and honored on purely musical terms; after all, history has shown that music has the potential to be cherished long after its movie has faded in memory.
And so below the nominees, ranked from all right to awesome.
Her - William Butler and Owen Pallett*
Director Spike Jonze called on two members of the indie rock group Arcade Fire to provide music for his slightly futuristic love story, and the pop-minimalist atmosphere they produced sounds about right. The electronic writing is pleasingly rough and analog, and the overall mood is a kind of languid warmth. The cues that owe something to Philip Glass (e.g. "Morning Talk / Supersymmetry") stand out, but most of the material is more sufficient than memorable.
Gravity should be a film composer's dream. In a movie that's pretty realistic about the impossibility of sound in space, music is going to need to do a lot of work—which also means its creator will have an uncommon amount of silence to fill. Price, a British composer with only a few credits so far, definitely fills it, but his sounds are predictable and tend toward the overwrought, especially as we near the film's completely campy ending. To be fair, Price's facility with textural writing is admirable—his score shimmers and growls and envelops as it personifies the void. But tritely soaring, vaguely Celtic female vocals punctured my listening experience like satellite debris through a shuttle hull. Oh, and if you thought that Hans Zimmer had done this one, you're forgiven—a great deal of Zimmer's Dark Knight and larger Sweeping Ecstatic Climax palette seems to have floated into Price's studio.
The Book Thief - John Williams
At the age of 81, Williams is inarguably a film composer of the highest order. Though it's been decades since his iconic, at times academically Romantic style was the main idiom of Hollywood scoring, he continues to be the go-to man when directors—notably long-time collaborator Steven Spielberg—call for it. In The Book Thief Williams hasn't broken new ground, exactly; his textbook orchestration—triangles on accent points, rushing woodwinds for energetic sequences—and florid string-writing are unmistakably familiar. But Williams is smart to employ intimate voices like piano and harp throughout this score: They sound a somber, Chopin-esque lullaby that feels just right in a movie about a child's experience of WWII. The gorgeous writing here is no surprise, but it's also not really award-worthy; Williams can't have much room left on his mantle anyway.
Philomena - Alexandre Desplat
Who doesn't love a good waltz? Desplat is one of the current stars in the industry, and the lilting notes he's turned in here show why. He approaches a story that could have drawn treacle from lesser composers with a bewitching mix of light and darkness, transposing a minor-key carnival tune through a range of emotional keys. Tightly orchestrated strings, celeste, piano, guitar, and other delicate timbres keep the music intimate and humane. Desplat creates a coherent and affectively potent musical world—a worthy winner in some years, but not the very best in this group.
Saving Mr. Banks - Thomas Newman
I'm on the record as a Newman fan. As I wrote when he was up for this award last year, this guy—with his now 12 Oscar nominations—deserves recognition not just for a single score, but for his entire, highly influential (i.e., mimicked) body of work. But even if Academy voters don't see that career-award logic, they've got a worthy individual score to recognize in Saving Mr. Banks. The first word I'd use to describe Newman's general sound is melancholy, but in Banks his vocabulary bounces giddily in a brighter dialect. Sparkling glissandos, flittering flutes, crunchy string hits, ethereal bells, and earthy dulcimers groove and meld into a seductive, electric haze. Newman is, to my ear, the most joyfully playful composer working today—to say nothing of his originality in an industry that likes a formula—and it's about time he gets the recognition he deserves.
*The soundtrack for Her is not yet available for streaming.