Last Night's Glee Was a Very Moving Spectacle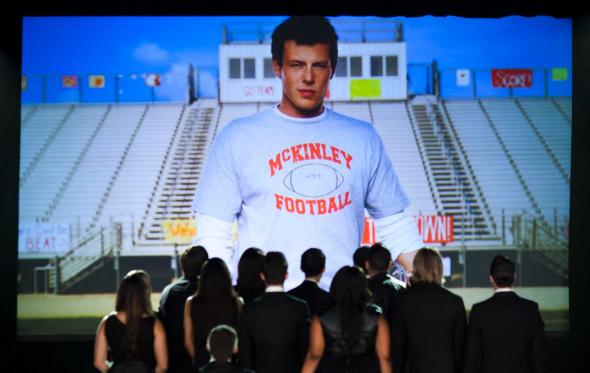 Last night's episode of Glee, "The Quarterback," paid tribute to Finn Hudson, the football player and shower-singer played for four seasons by Cory Monteith, the young actor who died of a drug overdose this summer. TV shows have done episodes like this before, acknowledging the death of a fictional character after the actor who plays them has died, sometimes suddenly. But Glee did it in the Twitter era, when viewers had not only read about Monteith's death, but also the reactions of everyone who knew him. Monteith died in July, and just weeks later, the cast—reportedly guided by the wishes of Monteith's real-life girlfriend and Glee co-star Lea Michele—was back on set, filming this episode. Because of the speed with which it was assembled, because of Michele's personal relationship with Monteith, because of the cast and producers' assertions that Monteith was as lovely as Finn, the skein between fiction and nonfiction in the episode was particularly thin: Glee was mourning Finn Hudson, but everyone making the episode was mourning Cory Monteith.
Given Glee's proven ability to go maudlin and after-school-special-style on any and everything, "The Quarterback" was relatively restrained. There was no grandstanding about drug abuse—in fact, the episode made no mention of how Finn died at all—no spiritual posturing, no false attempt to make Finn's death mean something grand or redemptive. The episode explicitly did not want to be a spectacle: Early on, the scabrous Sue Sylvester (Jane Lynch) insisted, "We honor Finn Hudson by taking care of the people he loved and the way we do that is helping them to move on… by not making a self-serving spectacle of our own sadness." But this was not entirely avoidable: The power of sadness as spectacle, the potential catharsis of group mourning, the healing nature of the heaving sob were the episode's raison d'être—grief theater understood as something collectively restorative.
If "The Quarterback" had any message at all, it was that tears are therapeutic. They should flow profusely. Mr. Schuester, who had been "everyone else's rock," had not cried, we learn, and his girlfriend suggests that, though he should grieve however he wants to, at some point he'll need to break down. The episode ended with him sobbing into Finn's letter jacket. Puck, Finn's ne'er-do-well best friend, had also been refusing to cry, for fear that "if I start crying I'll never stop." In the episode's most over-the-top scene, his football coach gets him to sob, thus beginning his healing process.
Eliciting tears from the other characters—and the audience—was not nearly so hard, but it was still most definitely the point. Scene after scene was designed explicitly to make us cry. A long exchange between Kurt, his father, and Finn's mother had each expressing their grief in turn, a ratcheting-up of unhappiness that ended with Finn's mother sobbing, "You get to go on being a parent even though you don't have a child anymore."
But the episode reached its apogee of grief when Lea Michele/Rachel Berry appeared before the glee club. Michele usually does the heavy lifting on Glee, but last night she appeared sparingly, leaving the snarky Santana (Naya Rivera) to carry much of the episode. This worked well: The best sequences—besides the songs—came courtesy of cold characters like Santana and Sue, who were allowed to tell jokes and leaven their sadness with sass. Rachel, on the other hand, sang an Adele-style version of the Bob Dylan song "Make You Feel My Love." Michele wept throughout the song, her mascara leaking down her face, and the clean, perfect vocals, though beautiful, didn't really match. The effect was affecting, if odd: it felt more like watching a montage of Lea Michele crying and singing as the cast of Glee looked on and sobbed than like actually watching Lea Michele sing. The moment was undoubtedly a spectacle—a character crying for her dead boyfriend as an actress did the same, our presence on the couch a way to give all that grief some functional outlet—but that doesn't mean it wasn't moving.