You're Doing It Wrong: Salsa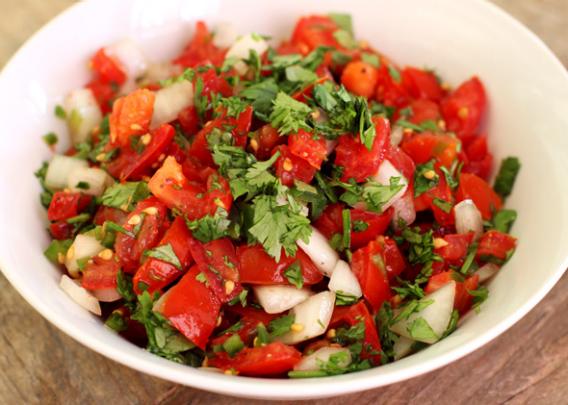 Like many other dorky kids of my microgeneration, I was first introduced to pico de gallo by the song "Pico de Gallo" on Trout Fishing in America's Big Trouble, the best children's music album of the early 1990s and also possibly of all time. I was tempted, in lieu of an introduction to this week's recipe, to just reprint the lyrics to the entire song, but I'll restrain myself and offer you just the chorus:
Pico de gallo
You ought to give it a try-o
Even if you're from Ohio
It'll get you by-o
Don't get it in your eye-o
Unless you want to cry-o
So come on, don't be shy-o
Eat some pico de gallo
There are also two glorious verses, and without spoiling anything, I'll tell you that one of them takes place by a bayou on Cinco de Mayo. (Seriously, listen to the whole thing.)
But the best time to make pico de gallo is not Cinco de Mayo, but late agosto, or maybe early septiembre, when tomatoes are ripe and abundant in most parts of this country. It is pure folly to buy jarred tomato salsa this time of year—homemade pico de gallo is fresher tasting, can be tailored to your palate, and is done in 10 minutes flat. All it takes is some chopping and a bare minimum of stirring (more like halfhearted folding, really).
The first thing you chop should be your onion, so you can give the onion pieces a chance to soak in room-temperature water while you're chopping the other vegetables. Unsoaked onions have a tendency to make everything in their vicinity taste like burning; soaking pulls away much of their acridity, leaving only a mild allium flavor behind. While the onion is soaking, chop your tomatoes (which we've covered), cilantro (which follows the same rules as parsley), and jalapeños.
Here's where you can tailor according to your palate: If you first separate the relatively mild jalapeño flesh from the spicy seeds and pith, you can then customize the heat level of your salsa: Add back none of the seeds for mild salsa, half of them for medium, and all of them for hot. Here's the easiest way I've found to seed jalapeños:
Most raw tomato dishes you want to eat right away and never refrigerate, but with pico de gallo you have a little leeway. The citric acid in the lime juice has preservative properties, so you can keep this in the fridge for a few days without ill effects.
Pico de Gallo
Yield: About 4 cups (16 to 20 servings)
Time: About 10 minutes
½ medium white or yellow onion, chopped
1½ pounds ripe tomatoes, chopped
½ cup chopped fresh cilantro
2 medium fresh jalapeños, seeded if desired and minced
Juice of 1 lime
Salt and black pepper
1. Put the onion in a small bowl and add enough water to cover. Let the onion sit for 5 minutes, then drain and pat dry with a paper towel.
2. Put the onion, tomatoes, cilantro, jalapeños, and lime juice in large bowl; season with salt and pepper and stir to combine. Taste and adjust the seasoning, and serve. (Store leftover pico de gallo in an airtight container in the refrigerator for up to a few days.)