Watch 'N Sync Reunite (Briefly) at the VMAs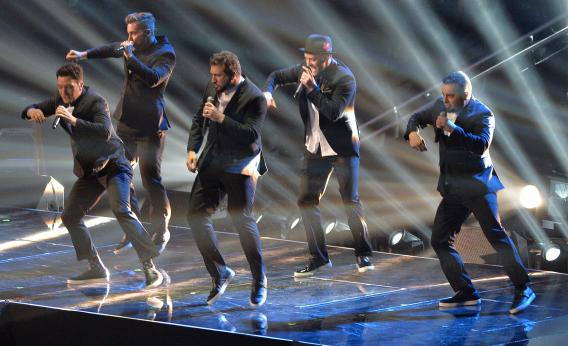 The rumors proved true. All five members of 'N Sync were reunited during last night's MTV Video Music Awards, performing onstage together for the first time in more than a decade.
Unfortunately, their reunion was plopped almost haphazardly into the center of a near-20-minute medley of former member Justin Timberlake's solo material. While it's doubtful anyone expected a full-scale concert from the defunct boy band—Timberlake, after all, was the one receiving the dubious Michael Jackson Video Vanguard Award, a sort of lifetime achievement trophy—there was some hope that 'N Sync would at least make a satisfying cameo.
Instead, around 11 minutes into Timberlake's performance (you can watch the entire video here), the rest of the guys rose from the stage for brief, slightly out-of-sync renditions of "Girlfriend" and "Bye Bye Bye." Like the Destiny's Child reunion earlier this year during Beyoncé's half-time show at the Super Bowl, the performance only served to reinforce Timberlake's stardom (though J.C. Chasez was lucky to get a couple of short solos in).
But even while re-enacting their background roles in the group, the rest of Destiny's Child at least got to spend a whole three minutes onstage, whereas Timberlake's former band mates had a blink-and-you'll-miss-them two-minute performance. As the guys prepared to exit the stage, Timberlake gave a half-hearted shout-out to the group, and dove right into the rest of his medley. So long as he remains the cultural force that he is, fans will likely have to wait much longer for the 'N Sync reunion they were hoping for.