A Surprisingly Good Musical About the NBA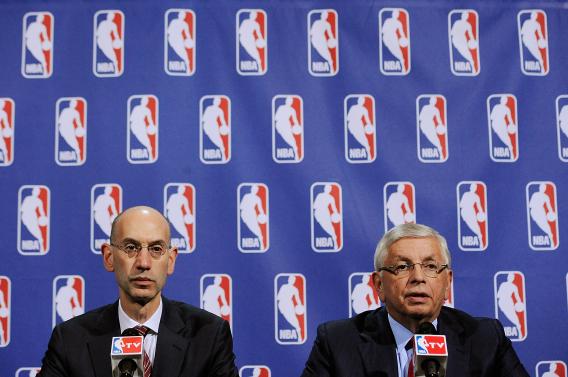 The 2011 NBA lockout infuriated just about everyone, from players to owners to fans—basically everyone except the guys who used it as the inspiration for a musical. The Lockout: A Musical, a new production opening in Chicago this Friday, is a story about the fictional Wichita Water, a hapless small-market team that dreams of contending against the Heat and Lakers and their big-market brethren.
Penned by relative newcomers Ben Fort and Jason Gallagher, the idea began as a generic basketball-themed show. That all changed during the summer of 2011, when the lockout provided the perfect dramatic backdrop. Much of the show's conflict lies in a Moneyball-esque split between a delusional owner, who thinks superstars will flock to Wichita, and his GM, a female Daryl Morey-type who has a much more realistic and stats-based approach to building their roster. The owner, as Gallagher explained to me, "tends to shout 'Moneyball!' a lot and has no idea what he's talking about." The production then expands into a Romeo and Juliet-esque story of the owner and his star player cast on opposite sides of a bitter lockout.
While musical theater has delved into sports before (most notably with Damn Yankees), The Lockout stands out for its sheer sports nerdiness (even Hang Up and Listen panelist Mike Pesca might appreciate it). Fort and Gallagher got their start at the famous improv theater Second City, and while ultra-niche topics are common in short sketches, they're rare in full, two-act productions.
Fort understands why people might be skeptical of such subject matter succeeding, but he thinks non-NBA fans will still enjoy the show. He mentions Friday Night Lights as a point of comparison, which is "about football, but it's not really about football." "We sort of handhold the audience up until the point that we get really basketball-y. Every rewrite has been, 'I didn't get that one thing or … what the "amnesty provision" meant.' " They acknowledge this potential disconnect in the opening song, with the deadpan lyrics: "the key to the game is get a higher score."
The show's cast and crew weren't exactly NBA junkies when they started rehearsals. The lead actress went online and "just copied and pasted a lot of basketball terms and rules of basketball," Fort says.
The soundtrack, which is available for download and can be streamed for free online, includes catchy songs that basketball fans will love instantly. Highlights include the opening number, "Game 6," which chronicles a first-round elimination game against the Lakers, and "Superstar," a power ballad about the rewards of landing the elusive NBA superstar: "And we'll have the respect of Charles Barkley/ And a No. 1 selling jersey/ We won't just beat teams; it'll be a spanking/ And we'll have generous power rankings/ We won't just win it all; we will three-peat/ And we'll be a hashtag on every tweet."
Other standouts include "Win in Wichita," an advanced analytics manifesto complete with lyrics that seem straight from a GM's email: "A player's value is easy to find/ divide salary by wins generated/ stats times coefficients adjusted for minutes/ in proportion to the team wins created." "Sources," is a passionate tune sung by LeBron himself about his infamous free agency saga. The finale, meanwhile, "I Am Basketball," is sung by a rapping David Stern, and nicely encapsulates some of the most iconic NBA moments of last few decades.
The soundtrack has already generated some publicity from NBA.com and ESPN's Around the Horn. "They had us on ESPN and debated whether or not our musical would make it to Broadway," Gallagher said. "It was kind of the perfect ESPN question: 'Hey, there's this thing you know nothing about … let's debate it?' " (ESPN in fact makes an appearance in the musical as 'PSEN.') While Gallagher enjoys statistical approaches to sports commentary, he also appreciates the narrative approach to the game. "I respect the analysis, but for me, I love watching it with this bigger story in mind. I love creating these stories in my head. I'm not like, 'Lebron is clutch.' I'm more like, 'This guy's legacy at stake,' " he said. "One of the things we sort of noticed was how cold everyone is to everyone in sports, so what we wanted to do was write a really heartfelt story about these kinds of people."