The Isolated Vocals for "Bombs Over Baghdad" Are Amazing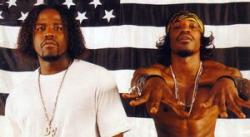 Sure, you were already impressed by the rapid-fire verses offered by Big Boi and André 3000 on their 2000 classic "B.O.B." (aka "Bombs Over Baghdad"). But you will be even more impressed when you listen to them all alone, courtesy of the excellent Soundcloud account IsolatedVocals.
Advertisement

TODAY IN SLATE
Technocracy
Forget Oculus Rift
This $25 cardboard box turns your phone into an incredibly fun virtual reality experience.