A Conversation About The Venture Bros. With Its Creators, Plus Exclusive Clips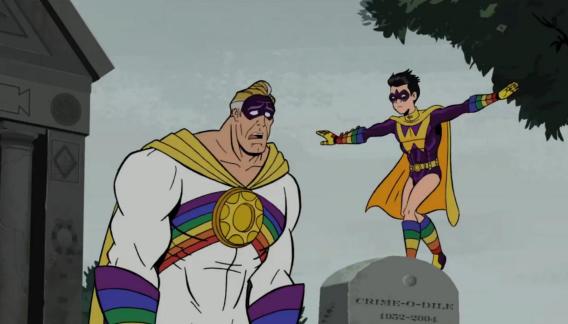 With Season 5 of The Venture Bros. in full, glorious swing, the show's creators, Jackson Publick and Doc Hammer, were kind enough to stop by Slate's podcast studio. We had a full decade of all things Venture to discuss, and the result is a freewheeling interview covering everything from men growing and shedding breasts to the happy potential of David Bowie lawsuits—not to mention tons of tidbits about Doc and Jackson's creative process and the future of the show. You can listen below.
[Adult Swim] also sent us two exclusive clips of Episode 7, "Bot Seeks Bot," which begins with members of the villainous Guild of Calamitous Intent eulogizing the death of one of their own, Boggles the Clue Clown.
Later, they reminisce about the good old days of organized villainy while on a joy ride.
"Bot Seeks Bot" airs this Sunday.