Kanye Continues His Aesthetic Assault With "Black Skinhead" Video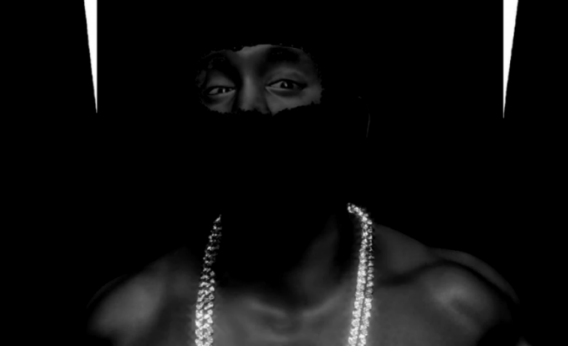 The new Kanye West album Yeezus is practically brimming with harsh, abrasive tracks, but "Black Skinhead" may be the harshest and most abrasive of the lot. With rhythmic dog-barking and pounding percussion that evokes both Gary Glitter and Marliyn Manson, West not only tries to command the audience's attention, but also to evoke its nightmares. (The lyrics contribute to the battle-ready mood. "They see a black man with a white woman/ At the top floor they gone come to kill King Kong," he declares.)
The just-released video for the song is equally unrelenting, albeit much less successful, aesthetically speaking. On a black and white (but mostly black) canvas, a shirtless West (or, at least, a video game avatar of West) jumps in and out of darkness while rapping, sporting a never-before-seen hardened physique outlined in a metallic hue. And that's about it. Basically, it's a graphic-novel-ish version of his live performance of the song on Saturday Night Live back in May.
The rapper is no stranger to visually assaulting music videos: Just recall the one he made for "All of the Lights," which had to include a health advisory warning due to its strobe-light effects. But that video also offered an occasional reprieve from the flashing lights by cutting to other, more stable, images.
Here, there's no build, no variation. "Black Skinhead" attacks and attacks and tries to hold you fast until the end.
Update: The video was posted briefly last night on West's website before being removed; he's since confirmed via a series of tweets that the video was leaked in its unfinished state."Me and Nick Knight have been working on this video for 5 months," he stated, "and for creatives it's heartbreaking when something like this happens." The rapper followed up with another tweet to confirm that the finalized version will be released "within the next week."