Robin Thicke Goes Dubstep for New Single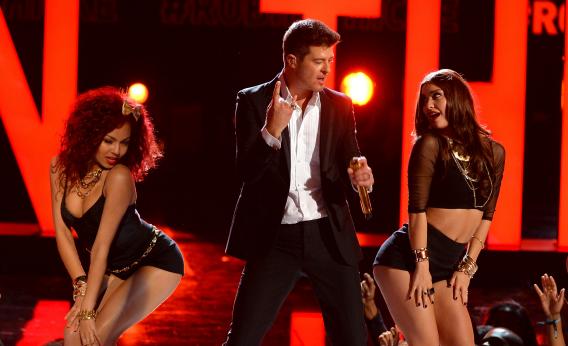 Fans of the'70s-style groove on Robin Thicke's breakout hit "Blurred Lines" might be surprised, even taken aback, at the direction of his new single, "Give It 2 U." While the earlier tune, currently dominating the pop charts, brings a retro, analog vibe—borrowing heavily from "Got to Give It Up"—Thicke's new single goes full wub, sounding more like LMFAO than Marvin Gaye.
Which is not to say it's not successful. The "boom boom pow" of those wubs may come in part from co-songwriter Will.i.am, a master of stupid, dance-floor-filling pop songs who, let's not forget, made his name in the mainstream in part with a crowd-pleaser originally titled "Let's Get Retarded." The tone Thicke takes here similarly revels in being unabashedly dumb: Just in case you don't get what Thicke means when he says he's "got this for ya, a little Thicke for ya," he explains: "a big dick for ya."

The song, and its timing, seem aimed at capitalizing on Thicke's sudden fame. In addition to Will.i.am's involvement, the song was produced by master hitmaker Dr. Luke, and the soaring chorus, which Thicke's smooth falsetto handles deftly, would seem to bear his fingerprints. Compton rapper Kendrick Lamar also shows up for a verse, and while the song's IQ is well below his own (and he doesn't raise it much), it might help him find a wider audience.