What's the Best Last Line of Any Sitcom Ever?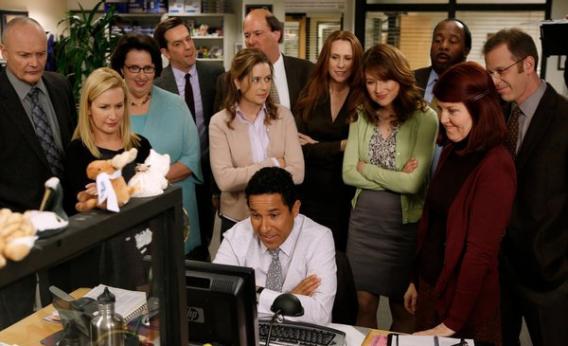 Among the virtues of last night's series finale of The Office was a memorable last line. Talking one last time to the documentary crew, and mulling their decision to spend years on a documentary about a paper company, Pam says, "There's a lot of beauty in ordinary things. Isn't that kind of the point?"
That got us thinking: What sitcom had the very best last line? We've collected our picks below, from the bar where everybody knows your name to one of TV's most famous (and least likely) twist endings, and we've ranked them roughly in order of preference.
Which ones were we crazy to leave out? Chime in with your own picks for best sitcom signoff in the comments.
Cheers

SAM: "Well, I tell ya. I'm the luckiest son of a bitch on Earth. [Customer knocks on the door] Sorry, we're closed."*

Newhart

BOB: "You really should wear more sweaters."
All in the Family

ARCHIE: But I'm gonna tell you somethin'. I ain't nothin' [whispers] without you. [They kiss.]
EDITH: You know somethin', Archie? You're a pip. A real pip.
Frasier

FRASIER: "Wish me luck."
Roseanne

DJ: Happy birthday, Mom. Here, pencils.
DARLENE: Yeah, and I got you some notepads.
BECKY: And I got you a dictionary and a thesaurus.
DAN: You know, Stephen King got started this way.
The Larry Sanders Show

ARTIE: Hank, let's go, let's go to the smokehouse and, uh, we'll think this over first.
HANK: I'm such a prick.
Seinfeld

JERRY: The second button is the key button. It literally makes or breaks the shirt. Look at it, it's too high, it's in no-man's land.
GEORGE: Haven't we had this conversation before?
JERRY: You think?
GEORGE: I think we have.
JERRY: Yeah, maybe we have.
The Office

PAM: "There's a lot of beauty in ordinary things. Isn't that kind of the point?"
Friends

RACHEL: Okay, Should we get some coffee?
CHANDLER: Sure. [Beat] Where?
30 Rock

JENNA: [sings] I will never forget you, rural juror!
I'll always be glad I met you, rural juror! [repeat]
These were the best days of my flerm.
* Correction, 2:51 p.m.: This post originally misstated the penultimate line on Cheers. Sam calls himself the "luckiest son of a bitch on Earth," not the "luckiest son of a bitch in the world."