James Franco's Spring Breakers Inspiration Turns the Tables on One Life to Live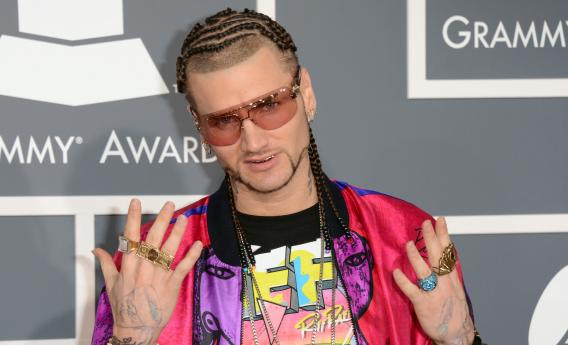 Among the many creative endeavors of James Franco, perhaps the strangest (and that's saying something) was his three year-stint on long-running soap opera General Hospital. The actor played "Franco," a sociopathic multimedia artist and serial killer who terrorized the characters of the fictional town of Port Charles, N.Y. Franco said he took the role of "Franco" as an experiment in performance art.
Back on the big screen, Franco recently gave one his most memorable performances as Alien, the sociopathic "gangsta" in Harmony Korine's Spring Breakers. In an interview with GQ, the actor said the "biggest influence" on that role was real-life Florida rapper Dangeruss. That claim did not sit well with Riff Raff, a Houston-based rapper who insists that the role of Alien was originally meant for him.
Whatever the truth of matter, Riff Raff has now "retaliated" for the snub by dipping his own toes in the soap-opera-based performance-art waters. On One Life to Live he is now playing a "shady art dealer" named "Jamie Franko." The corn-rowed, tattooed rapper does what is apparently his usual thing, speaking in grand slang and inexplicably juggling the attentions of a coterie of beautiful women. Much like Franco's Alien in Spring Breakers, Riff Raff's "Jamie Franko" is the only interesting thing on screen. But it is genuinely interesting.