When Conan Auditioned for Late Night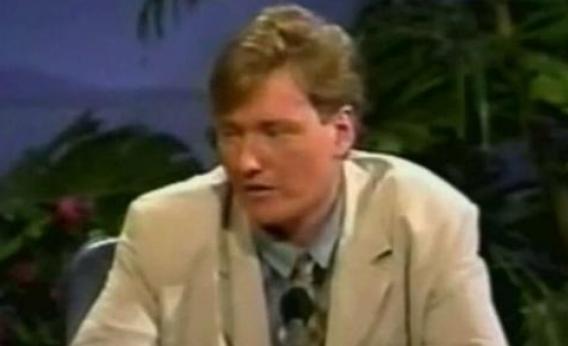 Twenty years ago, on April 13, 1993, Conan O'Brien auditioned for Late Night. To mark the anniversary, O'Brien's TBS crew posted a clip of the mock show the late-night host taped as part of his tryout. It's very short—not quite a minute long—but, if you're a fan of late-night TV and O'Brien himself, watching him interview Mimi Rogers and Jason Alexander for an audience of networks suits is fascinating. As someone who tuned in for Conan's first late night appearance in 1994, and many early episodes thereafter, the most striking thing for me about the tape is that Conan looks more comfortable in this audition than he did for the first few months of the actual show.
Sure, his suit is riding up awkwardly above his shoulders, and he hugs the desk and taps the pencil in nervous fashion. But in these brief moments, at least, he is quick and witty and happy to push back playfully against his guests. I liked Conan right away when he debuted on NBC, but was always a little amazed that the network went with someone who at times struggled mightily to seem at ease on television. This tape makes that decision a little more understandable—they knew he had this in him, even if it took a while before he brought it fully to the small screen.