Comedy Legend Jonathan Winters Dies at 87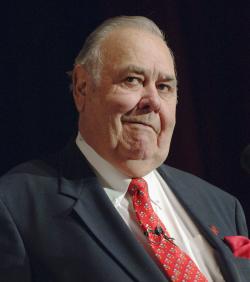 Jonathan Winters, who helped to make improvisation a major part of mainstream American comedy, died today at his home in California at age 87. Though he has been less visible in recent years, the great master of voices and characters never fully retired; his voice will be heard this summer in Smurfs 2, a full 60 years after he first moved to New York City to make it big.
Winters supposedly came to the big city with just $56.46 in his pocket, after getting his start in radio and local TV in his native Ohio. He moved in with friends in Greenwich Village, and by 1956 he had a 15-minute variety program on NBC, The Jonathan Winters Show, which aired every Tuesday and consisted of an opening monologue, a musical act, and then a closing sketch.

Many of Winters' popular characters were rooted in his Midwestern childhood, among them Elwood P. Suggins, B. B. Bindlestiff, football coach Piggy Bladder, and his most popular character, Maude Frickert, who, according to the New York Times, "was inspired by an elderly aunt who let him drink wine and taught him to play poker when he was 9 years old."
In the meantime, he put out, in 1960, the first of his many comedy albums. A few years later, a standout performance in 1963's It's a Mad, Mad, Mad, Mad World added to his growing celebrity. Winters was a popular guest on several TV shows, including The Jack Paar Show, where he showed off his gift for improvisation. "Do something with the stick," Paar said, in one famous bit. Winters, as the AP put it this afternoon, "swiftly became a fisherman, violinist, lion tamer, canoeist, U.N. diplomat, bullfighter, flutist, delusional psychiatric patient, British headmaster and Bing Crosby's golf club."
In the early 1980s, one of Winters' many comic acolytes, Robin Williams, introduced him to a new generation of fans by casting him on his show, Mork & Mindy. Winters, nearly 60, played Mearth, the comically old-looking son of Williams' eponymous alien, Mork.
Winters largely retreated from the spotlight over the last couple of decades, spending much of his time at home painting. But he continued to record new albums, including some more serious, reflective records. Winters' wife, Eileen, died in 2009, after more than 60 years of marriage.