Why Tabatha Takes Over Is the Best of the Fixer-Upper Reality Shows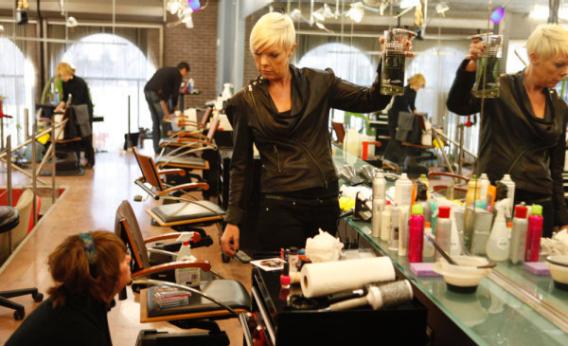 By now, the fixer-upper reality show is a staple of almost all of the lifestyle-oriented cable networks. You've got your housing renovations on HGTV, your fashion makeovers on TLC and E!, your health-code-breaking restaurant smackdowns on the Food Network, and, over on Spike TV, a reportedly great show that concentrates entirely on bars. With shelter, clothing, and victuals all covered, that list might leave you thinking that there's nothing left to fix-up—but you'd be wrong. The final frontier is on top of your head.
That is, assuming you're not bald: Hair happens to be the main focus of the best fixer-upper show going in reality land right now, Tabatha Takes Over (née Tabatha's Salon Takeover). In the Bravo series, master stylist and business guru Tabatha Coffey arrives at financially flailing salons and other service-oriented businesses and demands the keys. Over the course of a few days, Tabatha interviews the staff and owner about the business's problems, inspects both the condition of the space and the quality of the work, diagnoses the underlying causes of the firm's money troubles, and oversees a complete physical renovation of the shop to compliment the spiritual one. While these individual elements are commonly found in separate shows, it's the way they come together in Tabatha's top-to-bottom service that makes the show shine brighter than a fresh set of highlights.
This might seem wonky, but one of the most compelling elements of the program—aside from the requisite shock value of hair-matted brushes and unwashed, reused towels—is Tabatha's extremely useful business advice. All too often, she encounters proprietors who got into the hair or bar or whatever trade out of a passion for the medium, not the balance books. Tabatha herself is a very accomplished stylist, but she's clear that being good with a pair of shears will not, in itself, pay down the hundreds of thousands of dollars of debt her subjects usually owe. To tackle those kinds of challenges, she encourages the owners and staff to cross-promote with other local businesses and offer consultations or samples at community events. And when she's not giving a small-business seminar, Tabatha is equally skilled at playing office psychologist, putting her finger on (while poking for drama, of course) the personality conflicts and bad habits that are, without fail, clashing with both coworker harmony and the sound of the cash drawer.
But all that aside, the producers have found a reality TV gem in Tabatha's persona. She's a total bitch (she'd say the same) when critiquing her subjects' failings, and she's supremely skilled at the devastating one-liner, framed all the better by her customary color palette of black on black on black. (Predictably, gay subjects and fans alike seem to love her all the more for her brusqueness.) But the show does a good job of tempering Tabatha's icy shell with a little gonzo warmth on occasion, such as the time she insisted on staying over (in pink pajamas for a twist!) at a bed-and-breakfast that preferred to leave stray hairs instead of mints on its guests' pillows.
If the first episode of Season 5 (which aired last night) is any indication, we're happily in for more of the same in the coming weeks. Leaving the show's previous locales of the East and West Coast to help out some businesses in the South, Tabatha visits Salon Mogulz in East Nashville—a shop whose proprietress is over $100,000 in debt but sees no reason why she shouldn't continue to, as one stylist puts it, "never wear the same thing twice." I won't give away how Tabatha deals with that unbalanced equation, except to say that, unless a client has asked for a trendy bob cut, she doesn't look kindly on asymmetry.