Why Theater Nerds Love The Last Five Years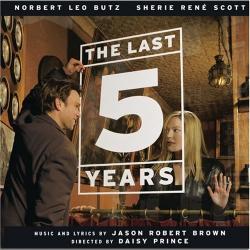 Tonight, a revival of Jason Robert Brown's 2001 musical The Last Five Years—a chronicle of the courtship, marriage, and separation of two twenty-something New Yorkers—will premiere at Second Stage Theatre in midtown Manhattan. The new production, directed by Brown, is the latest demonstration of the show's incredible afterlife. (See also the movie adaptation starring Anna Kendrick that's currently in preproduction.) The original 2002 off-Broadway production received mixed reviews and closed after two months, its ticket sales stymied by post-9/11 consumer skittishness. But the original cast recording went on to sell 85,000 copies sans marketing budget, cementing Norbert Leo Butz and Sherie Rene Scott as Broadway idols, and the play has since been performed in thousands of college and regional productions around the world. And those figures only hint at the obsessive fandom Brown's intimate musical has inspired in theater nerds—particularly high-school and college-age theater nerds—in the 12 years since its debut.
What accounts for The Last Five Years' cult status among theater kids? The minimalism of the show goes partway toward explaining its popularity on the college theater circuit: Producing The Last Five Years requires little in the way of set, costumes, or choreography—all you need are a couple of talented singers, who take turns singing songs about their characters' relationship. Cathy, an actress, tells her side of the story in reverse chronological order, while Jamie, a novelist, moves forward through time. (You'll find a Spotify playlist of the original cast recording at the bottom of this post.)

That temporal gimmick can be confusing when you first watch the show, but it's likely contributed to the original cast recording's success: The album rewards multiple listens, which reveal the finer points of Jamie and Cathy's interactions, plus a few buried-treasure leitmotifs that become evident once you've got a handle on the plot. The fact that the musical is sung through also explains the album's appeal: You're not missing any important bits of dialogue when you listen along at home, since all the plot is revealed via song.
And then there are the reasons you'd expect a musical to find a following: Brown's pop-tinged, metrically complex compositions are equal parts catchy and heart-rending. Just try not to get a lump in your throat during "The Next Ten Minutes," the love song that Jamie and Cathy sing when their trajectories overlap in the middle of the show, or goose bumps during Cathy's exuberant final number, "Goodbye Until Tomorrow." The libretto is sharp and naturalistic—well, as naturalistic as possible for musical theater: Jamie and Cathy's songs are studded with profanity, linguistic mannerisms, and cultural references that will delight all but the most jaded listeners.
But the heart of The Last Five Years' appeal for high school and college students is its specific yet romantic depiction of life in New York City. Brown might as well have written an open letter to creative small-town kids who can't wait to graduate and move to the big city. Jamie and Cathy are both ambitious, confident, and convinced of their own exceptionalism. (They are also entirely self-absorbed, which may go over the heads of many navel-gazing teenagers.) Jamie's "Moving Too Fast" is a celebration of having broken away from the pack—dropping out of Columbia and selling his first novel at the age of 23 ("I wrote a book, and Sonny Mehta read it"), getting the first chapter published in the Atlantic Monthly for a tidy fee of $2000. A major source of stress for his marriage to Cathy is that he's constantly going to fancy media parties where he's fêted as "the savior of writing."
Meanwhile, Cathy sings a couple of songs that sneer at suburban provincialism. In "A Summer in Ohio," she laments the torture of having to go on a touring production that takes her "forty miles east of Cincinnati," where she can't get Vietnamese food. In "I Can Do Better Than That," she pityingly recalls seeing her high-school best friend marry right after graduation and enter "a typical life in a town on the Eastern Shore." The message of The Last Five Years is that there's nothing worse than languishing in suburban obscurity, and that if you're talented and driven, you might become a literary superstar and find a great apartment on 73rd Street.
The irony, of course, is that the New York depicted in The Last Five Years doesn't exist anymore, if it ever did. A literary novel by a 23-year-old college dropout becomes "the subject of a bidding war" and gets reviewed in The New Yorker by John Updike? It was improbable in 2001, and it's laughable in 2013. (The Atlantic Monthly, meanwhile, is just the Atlantic now, and no longer publishes fiction in each issue.) I'd wager that The Last Five Years soundtrack has fed many teenagers' dreams of making it big as a writer or actor in New York—it certainly fed mine when I was younger—but when they got here, they discovered that media budgets are a lot tighter in Internet-era New York than they were around the turn of the millennium.
In the new production, starring Betsy Wolfe and Adam Kantor, Brown has carefully avoided suggesting that Jamie and Cathy live in the present day; he recently told Playbill, "I felt that if you said it was 2013 and yet they don't spend time on Facebook, Twitter, texting, then they're not really being young, contemporary New Yorkers." But the part of The Last Five Years that feels the most dated isn't when Jamie and Cathy use a landline instead of texting or Gchatting. It's when Jamie gives a reading of his novel in front of a lavish book display case at Barnes & Noble. Those were the days.