Stream the New Album From The Knife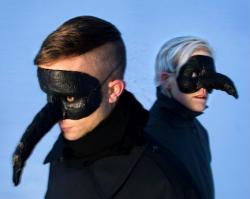 It's been seven years since Swedish electronic music duo The Knife released their last proper album, the dark, strange, and critically acclaimed Silent Shout. In the meantime they've been attending to side projects and even stranger operas about Darwin, before just this spring releasing videos for the new singles "Full of Fire" and "A Tooth for an Eye."

Now you can stream all 98 minutes of their new album, Shaking the Habitual, below, via the band's SoundCloud. And there's a lot in that 98 minutes, which alternate between drones and noise ("Old Dreams Waiting to Be Realized,""A Cherry on Top") and somewhat more club-friendly tracks ("Without You My Life Would Be Boring," "Ready to Lose"). Shaking the Habitual is out next Tuesday, April 9.