The Utter Brilliance of "Sing Like a Larry Bird"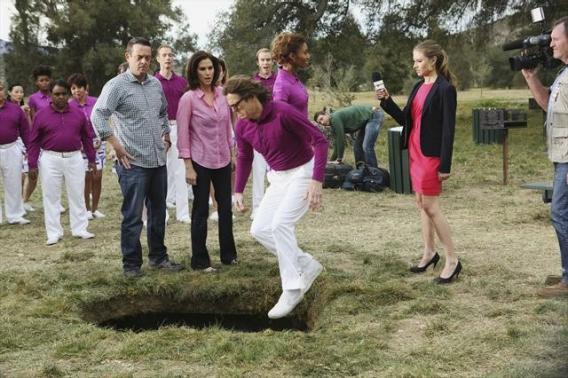 According to the conventional wisdom, this is not just the golden age of television, but the golden age of musical theater on television. Between Smash, NBC's cursed making-of-a-musical musical (now shunted off to the Saturday night salt mines), and Glee, Fox's amnesiac-fever-dream of a high-school show-choir chronicle, television is witnessing levels of singing and dancing not known since the glory days of Cop Rock. It should be no surprise then that on Wednesday night a network show aired a smart, silly, bang-on-target critique of Broadway. The episode was beautifully orchestrated and well-sung, but there was nary a mention of Marilyn Monroe or McKinley High. That was because these musical numbers didn't air on Smash or Glee, but on ABC's aliens in New Jersey comedy The Neighbors.
As with many episodes of the underrated show, "Sing Like a Larry Bird" began with a hokey setup: Aliens Larry Bird (Simon Templeman) and Jackie Joyner-Kersee (Toks Olagundoye) begged their human mentors, neighbors Debbie and Marty Weaver, to take them to a Broadway show. They were rebuffed. "We stopped going to musicals after our $600 family nap at Phantom of the Opera," Marty told them. "Plus, whatever you want to see, Hugh Jackman will eventually turn into a movie," added Debbie. But the brave Zabvronians ignored the Weavers' advice and high-tailed it to Manhattan to catch a show, after which they were convinced "musicals are clearly the best thing the planet has to offer."
The aliens decide to stage a show-stopping number to remind the Weavers how important it is that they be allowed—nay, encouraged—to try new things. "If we could do things/ Big spanking new things/ Life would be a big, bold, and bright as a Broadway show," they sing.
It's a fabulous number—tuneful, full of visual jokes, meta-commentary (don't for a minute imagine that it's a coincidence that the lip-syncing suddenly goes bad at the line "I want to smack the entire cast of Glee"), and references to The Neighbors' silly character names—"Sing out, Dick Butkus!" But at the big finish, Dick falls down a well, and the mood switches.
Wait, what? A character falls down a well? Why, that sort of ridiculous plot twist only happens in really bad sit-coms and … musicals and operas. Dick's fall draws cops and the press to the scene, which could spell doom if the Zabvronians are exposed. As Dick Butkus and Larry Bird—who has joined his son down the well—ponder this dire turn of events, Larry realizes that in musical theater, "right after the low point, everything turns around. The main song is reprised, but with a new, potentially opposite message to the first song." Cue another number, this time with a very different view of the Great White Way: "So let's pause briefly to recap/ This world's a scary tourist trap/ Shallow, offensive, much too expensive/ In short, exactly the same as that Broadway crap."
This is the greatest musical number since West Side Story's "Quintet." In case you're wondering, Larry and Jackie's oldest son, Reggie Jackson, is caterwauling about Amber because he has just realized he's still in love with the Weavers' oldest daughter.
If these songs seem like the work of people who know what they're doing, that's because they were written by composer Alan Menken and lyricist Glenn Slater. Menken is best-known these days for writing the music for such Disney hits as Beauty and the Beast, The Little Mermaid, Aladdin, and others, but he also worked in New York for many years—his first big hit, back in 1982, was the great dental musical Little Shop of Horrors.
Why is Menken working on a middle-of-the-road sitcom? (I love The Neighbors, but it's not yet a bona fide hit.) There's corporate synergy involved: Menken has a long association with Walt Disney Animation Studios, and The Neighbors is a production of ABC Studios, a division of the Disney-ABC Television Group. There's also a personal angle: The Neighbors' creator Dan Fogelman wrote the screenplay for Disney's Tangled, which Menken scored. More pressingly, though, award magnet Menken is one letter short of the elusive EGOT. He already has eight Oscars, 11 Grammys, and a Tony; he just needs an Emmy for the full set. In a video on the ABC site, several people involved with the musical episode explicitly suggest that Fogelman and co. enlisted Menken in the hopes of adding the E to his GOT. If so, I for one welcome the effort.
By the way, Stephen Sondheim is also an Emmy short of the grand slam. Steve, call your agent, I hear that guy on The New Normal can carry a tune.