| 
Posted Wednesday, Feb. 20, 2013, at 4:19 PM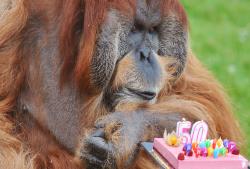 An orang-outang named Major celebrates his 50th birthday in France.
Photo by Alain Jocard/AFP/GettyImages.
I recommend checking out the runners-up, too. Those are some good alternative birthday songs! Try one the next time you're celebrating the day one of your friends, relatives, or co-workers was born. Especially if you plan to film the occasion and release it in theaters or show it on television.