Here's the New Birthday Song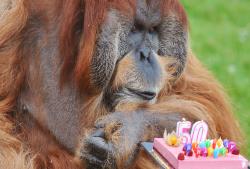 Advertisement

I recommend checking out the runners-up, too. Those are some good alternative birthday songs! Try one the next time you're celebrating the day one of your friends, relatives, or co-workers was born. Especially if you plan to film the occasion and release it in theaters or show it on television.
TODAY IN SLATE
Politics
The Irritating Confidante
John Dickerson on Ben Bradlee's fascinating relationship with John F. Kennedy.