The "One Drop Rule" of Jazz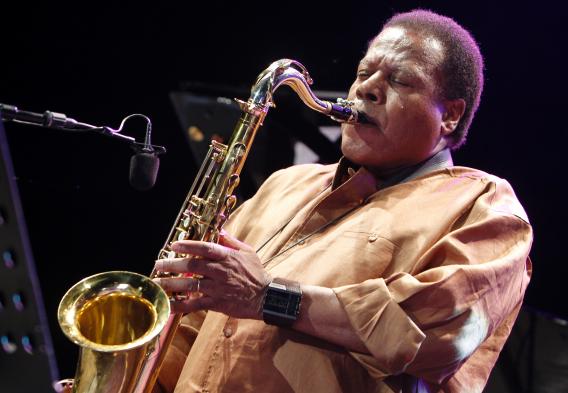 As far as shameful cultural secrets go, the fact that African-American composers aren't featured on our classical music stages as frequently as they should be is one few people bother keeping anymore. "That black composers are poorly represented in mainstream concerts is a germane topic of discussion but one beyond the scope of a single concert review" is how New York Times classical music critic Steve Smith accurately put it last week, when reviewing a Black History Month-timed showcase of oft-overlooked artists.
Outside the strictures of a concert review, though, we can ask the question more directly. And what better time than now, since a broad look at chamber music and orchestral programming in New York, for example, offers little in the way of sustained attention to works by composers like Duke Ellington (who wrote ballets and tone poems), Leroy Jenkins (who was commissioned by German composer Hans Werner Henze to write an opera), or Hale Smith, who composed while teaching inside classical music's academy (i.e., the way most composers pay the bills), among other underappreciated worthies.
The widely admired conductor Marin Alsop has championed orchestral writing by early stride-piano master James P. Johnson—the composer of "The Charleston"—who also worked on symphonic pieces, sometimes with the help of African-American symphonist William Grant Still. (Alsop continued her campaign recently on the NPR website.) Alsop notes that her advocacy is a reclamation project that comes only decades after a good bit of Johnson's notated music was lost due to inattention from the classical world. One of the pieces of Johnson's that I'd most love to hear right now, but cannot, is his one-act opera about the nascent labor movement, De Organizer, which featured a libretto by Langston Hughes. (The piece has recently been partially restored by scholars, though it has yet to be recorded commercially.)
Each of these composers is better known as—or else can be mistaken for—a jazz musician. Ellington, though he strove to be "beyond category," is obviously essential to any understanding of jazz—yet that shouldn't prevent us from thinking of him in other contexts. Jenkins was a key member of the jazz avant-garde starting in the late '60s, but by the 1980s it seems he was devoting as much or more time to formal, traditionally notated works for the stage. As shrewd observers have noted many times before, "The works of African American composers … are often mistakenly classified as jazz."
The composer, scholar, and sometime jazz trombonist George Lewis calls this "the one-drop rule of jazz," a metaphor he explained in a brilliant recent book, A Power Stronger Than Itself, as "that holdover from America's high-eugenics era that decreed that a single blood drop of 'Negro ancestry' was enough to render anyone a Negro." A white musician previously coded as a jazz artist who presents a new work for a classical ensemble is likely to be praised for bravely crossing boundaries. But when a black musician tries the same thing, the entire enterprise is often seen as a strained attempt to cast off or move beyond the jazz identity.
Enter Wayne Shorter, a saxophonist and composer for a couple of Miles Davis' greatest bands and one-time member of Weather Report who has a new album out on Blue Note records this week. Titled Without A Net, most of its songs rely on the excellent younger musicians who have made up Shorter's working quartet of the last decade: John Patitucci on bass, Danilo Perez on piano, and Brian Blade on the drums. They are one of the best bands in jazz today, as eight of the nine tracks on the new album demonstrate. Their patient approach to group improvisation and their willingness to take the long way around to a composed theme flirts with being "meandering," in a pejorative sense—and yet their interplay feels mysteriously tight. It's a high-wire act that sometimes fails during stretches of a live show. But since Without a Net was culled from several concert recordings made in 2011, the album moves from strength to strength; it's a highlight reel of "they did what now?" successes.
But on one key track, the quartet behind Shorter's late-career renaissance takes a backseat to—or more precisely, it shares a seat with—a classical quintet. "Pegasus" is a 23-minute tone poem that is led for extended stretches by the Imani Winds ensemble, which commissioned classical pieces from Shorter before this collaboration. Shorter's long-serving pianist kicks things off, but soon the juiciest instrumental writing is for the wind quintet. At the next pivot point, Blade's drums kick in, announcing that the jazz quartet has rejoined the proceedings. The Imani Winds do not retreat; neither the quartet nor the classical ensemble is struggling for pure dominance or the need to stay relevant. It's not solely a "jazz" piece or a "classical" one, but it's one of my favorite tracks in either genre this year.
"Pegasus" reappeared in a different version at a Carnegie Hall concert featuring Shorter's quartet and the Orpheus Chamber Orchestra last Friday, after a presentation of works by Beethoven and Charles Ives. The first collaboration between the bands on the bill, this version of "Pegasus" was much shorter and less successful; it sounded like a warm-up. But after it was over, something beautiful and exciting happened: The bands seemed to get comfortable. And once on the same page they stayed there for the rest of the night. Three other jazz-classical hybrid pieces by Shorter were played, one of them a premiere. For me, the final two recalled (in spirit if not tonal approach) Ornette Coleman's "Skies of America," with their beautifully arranged moments of meeting, which all concertos depend on—when a solo voice shoots over the top of an orchestra, or has its solitude interrupted by a phalanx of complementary voices.
Reviewing the concert in the New York Times, classical critic Corinna de Fonseca-Wollheim rightly described it as "frequently riveting" and praised the "moments of infectious energy" when describing those performances. Shorter's harmonies, she said, "like those of Ives, defy expectation even as they maintain a sociable approachability." I agree. But I dissent from her conclusion that the concert was less than the sum of its parts and that many of the best moments occurred "when the quartet played alone."
Those comments reminded me of another Carnegie Hall review that ran in the New York Times nearly 70 years ago. Duke Ellington had just premiered his 50-minute work "Black, Brown and Beige" in the same space. At the concert itself—thankfully preserved on CD, albeit with slightly muddy fidelity—Ellington prepared the audience to hear something longer and more ambitious than the traditional jazz number of the time.
And now friends, our latest attempt—probably our most serious attempt—and definitely our longest composition. However, in mentioning the length of "Black, Brown and Beige," we would like to say that this is a parallel to the history of the American Negro, and, of course, it tells a long story.
This symphony-length piece was also judged by the New York Times to have contained some inspired moments, which, alas, did not measure up to the more traditional tunes played on that evening. "It had many exciting passages," the paper said of Ellington's extended essay, "but it was in the shorter works … that the leader seemed most completely himself."
Ellington took this criticism so hard that he never sought to record his initial version of the work in a studio setting. The editors of the Penguin Guide to Jazz note that Ellington seemed to have lost confidence in the piece, shortening it radically for a recording made over a decade later. But for the scratchy recording of the Carnegie Hall concert, Ellington's first and most ambitious vision would have been as lost to us as was James P. Johnson's one-act opera with Langston Hughes.
Yet even if we could still do with more presentations of operas by Johnson, Anthony Davis, or the one by Scott Joplin, at least some sort of measurable progress has been made in the 70 years between the Carnegie Hall premieres by Ellington and Shorter. On the Saturday after their concert, before any reviews had the chance to come out, the saxophonist's quartet and the Orpheus Chamber Orchestra went into the studio to work on an upcoming album of these same pieces. I'm looking forward to it.
Below you'll find a Spotify playlist of extended works—both jazz-classical hybrids and otherwise—by African-American composers, including Wayne Shorter's "Pegasus" and other works by composers mentioned in this piece.