Drake Fact-Checks His Critics on New Single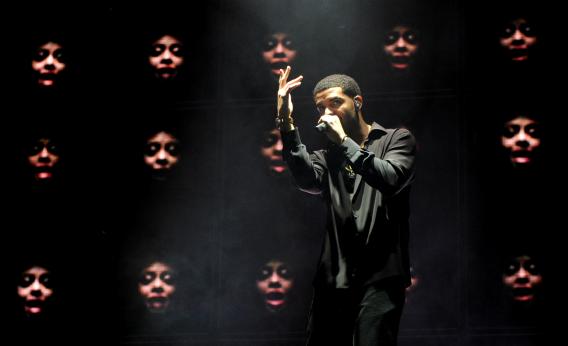 The look-how-far-I've-come track is a hip-hop favorite, but some would deny Drake the pleasure. Jay-Z has made a whole career out of his rags-to-riches story, and younger rappers like A$AP Rocky have continued the tradition on recent songs like "Suddenly." But Drake got his (modest) start on Degrassi. No wonder he had to spend most of his first album lamenting his wealth and fame, to please purists, before he could have any fun with it.

On "Started From the Bottom" Drake engages in a bit of historical revisionism, fact-checking the haters. While critics "say [he] never struggled" and only got famous by starring in a Canadian TV show, Drake reminds us, he "done kept it real from the start." He argued with his mom "every month" (!), he reminds us, and when he was driving home in his uncle's car there was traffic.
OK, so maybe Drake hasn't faced the level of hardship that some rappers have. The real question is why, after so many hip-hop greats have risen from the middle class (Kanye West, Chuck D—even Tupac went to art school), Aubrey Drake Graham still thinks he has to defend himself. As Drake emphasizes, he's risen up on talent and hard work—the reason he faced rush-hour traffic in the morning is because he was working all night—so whether he "Started From the Bottom" shouldn't matter.

But while lyrically the new single is underwhelming, musically it's thrilling. The focus isn't really on the wordplay—Drake is more singing than rapping. And over a piano riff chopped up and reconstructed by producer Mike Zombie, he takes the verse, the swirling hook, and the bridge, and handles all three nimbly. The bass is so low that it's almost infrasound, and the bridge finds him doing the mournful Drizzy thing he's had mastered since the beginning. Maybe the "story stays the same," as Drake keeps insisting, but that's all right when you're doing it this well.