The Creative Delusions of Washington Heights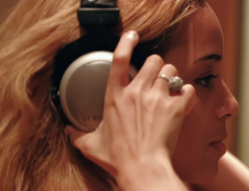 A "culture critic" should probably be the last person on Earth to cast aspersions on other folks' chosen career paths, but Washington Heights, the new MTV reality show that premieres tonight, made me feel like a cartoon grandma clucking over the unrealistic dreams of its young protagonists.
The titular neighborhood at the tip of Manhattan seems to inspire dubious artistic dreams: J.P. wants to be a musician—the first two episodes center on his freakouts before a club night—and Fred, Rico, and Ludwin aspire to careers in fashion, modeling/acting, and jack-of-all-artistic-trades, respectively. The women in their lives are a tad less pie-in-the-sky: Taylor, the only Caucasian in the mostly Dominican cast, hasn't yet settled on a career goal; and Reyna claims to be dedicated to music, but she spends most of her time creating drama. Frankie, who performs her poetry the way some people tell the time—like it's no big thing—is simultaneously the most self-actualized and the most specific in her goals: She wants to teach English at the collegiate level.
Of course, vocational issues are just part of the show's mix—these residents of the Heights also spend time flirting, fighting, and getting tattoos. But since it's those artistic dreams (and the cast of color) that set Washington Heights apart from other reality shows, it's hard not to obsess about them. And since so much of the TV schedule is packed with singing, designing—and, soon, diving—competitions, it's hard not to judge their efforts.
On the strength of the first two episodes, most of these kids would be best served by an intervention that reoriented them toward accounting or medicine. We viewers know—or think we know—too much about the worlds of music, fashion, and photography to believe they could make it. The only cast member whose dreams I didn't feel qualified to squash was Jimmy, who hopes for a career in Major League Baseball. He seems to throw, catch, and hit pretty well—and, so far at least, the job of a baseball scout is one that hasn't been crowd-sourced out to TV voters.