A Year of the Grateful Dead Tuning Their Instruments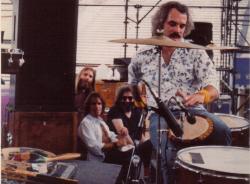 Yesterday Boing Boing plucked this curiosity from the magnificent Internet Archive: "Tuning '77," which was created by Michael David Murphy, and which the Archive describes as "a seamless audio supercut of an entire year of the Grateful Dead tuning their instruments, live on stage. Chronologically sequenced," the site adds, "this remix incorporates every publicly available recording from 1977, examining the divide between audience expectation and performance anxiety."
TODAY IN SLATE
Foreigners
The World's Politest Protesters
The Occupy Central demonstrators are courteous. That's actually what makes them so dangerous.
Federal Law Enforcement Has Declared War on Encryption
Justice and the FBI really do not like Apple's and Google's new privacy measures.