A Year of the Grateful Dead Tuning Their Instruments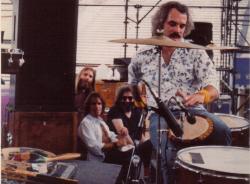 Yesterday Boing Boing plucked this curiosity from the magnificent Internet Archive: "Tuning '77," which was created by Michael David Murphy, and which the Archive describes as "a seamless audio supercut of an entire year of the Grateful Dead tuning their instruments, live on stage. Chronologically sequenced," the site adds, "this remix incorporates every publicly available recording from 1977, examining the divide between audience expectation and performance anxiety."
TODAY IN SLATE
Sports Nut
Grandmaster Clash
One of the most amazing feats in chess history just happened, and no one noticed.
The Extraordinary Amicus Brief That Attempts to Explain the Wu-Tang Clan to the Supreme Court Justices
The Human Need to Find Connections in Everything
It's the source of creativity and delusions. It can harm us more than it helps us.