Watch a New Doc About Magical Mystery Tour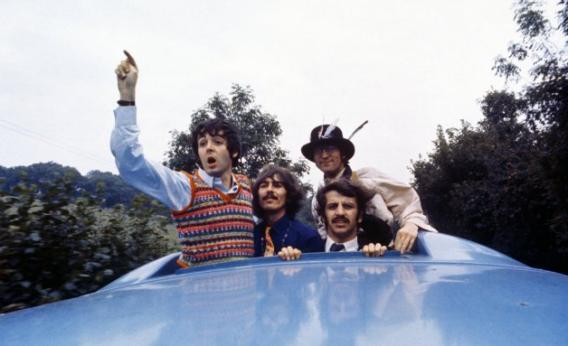 After the Beatles made their classic film A Hard Day's Night, and the enjoyable if lesser Help!, they made the strange successor Magical Mystery Tour. This past Friday PBS aired an enjoyable new documentary about the making of the Beatles' largely forgotten film, and you can now stream it below.
If you're not a hardcore fan of the Beatles or '60s experimental cinema, then this documentary, like the original film, may not be for you. Magical Mystery Tour was panned after it premiered in 1967. The documentary interviews several Britons who sat eagerly in front of their sets on Boxing Day in 1967, when it premiered; most were sorely disappointed and many were quite confused by the trippy, improvisational, free-associative film. (The movie was made during a year when the Beatles were heavily influenced by their use of LSD.)
But there's no denying that long stretches are shabby and incoherent—interesting only because they're by the Beatles. Why are the Beatles wearing wizard hats? Why was Paul McCartney so determined to secure "a dozen midget wrestlers"? These are magical mysteries even this documentary can't solve.