Homeland's Satirical Moment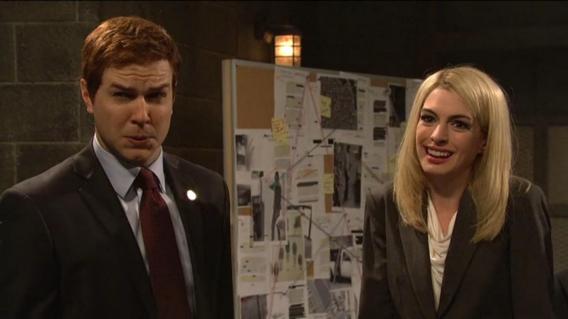 It usually takes three examples to constitute a trend, but when the object is a Showtime drama that bags Emmys in bulk and keeps every TV critic on the planet busy doing weekly recaps, two is enough. This week a brace of television shows offered up Homeland skits: one, Saturday Night Live, was predictable and mediocre. The other, far superior, tribute came from a more unexpected place: ABC's Suburgatory.
Saturday Night Live's sketch was merely so-so. For the most part, it simply catalogued Homeland's goofiest components—Carrie Mathison's craziness, her tendency to make out with targets, and Dana Brody's habit of showing up in restricted areas—rather than doing anything original or particularly funny with them. The physical impressions were also mixed: Bill Hader got Mandy Patinkin's Saul Berenson voice and physical affect just right, and Taran Killam honed in on something about Damian Lewis' Nicholas Brody that I'd never noticed before and now can't stop thinking about: his tiny mouth. But Anne Hathaway's take on Claire Danes' Carrie was pathetic: other characters in the sketch had to describe Danes' amazing "cry face," because Hathaway's impression looked more like the "turtle face" of New Girl's Nick Miller.
Suburgatory's tribute to Homeland was far more subtle, and far funnier. During this week's episode, mean girl Dalia (Carly Chaikin) experienced a crisis of confidence so profound that she seriously contemplated serving as class loser Evan's magician's assistant. Tessa (Jane Levy) was able to remind Dalia of the natural order of things, but only after Evan told Dalia that they had no long-term future together anyway because she's a shiksa. At the end of the episode, as the credits rolled, we saw Dalia get out of bed, head out to the garage, retrieve a hidden Torah scroll, cover her head, place a photo of Evan on the Torah, and begin to recite the prayer blessing for reading the Torah.
It worked visually and as a reference to Homeland—part of Dalia's escape was captured on what seemed to be a surveillance camera and echoed the scenes from Season 1 when Brody would sneak out to the garage to say the Muslim prayers; and as a Suburgatory meta-joke, since Dalia's Hebrew accent is just as affectless as her regular voice.