The Ayn Rand Show, With Rob Delaney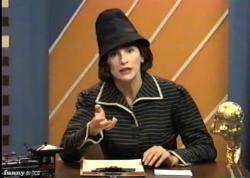 This summer we learned what Ayn Rand was actually like as a talk show guest, by watching old videos of her chatting with Johnny Carson on The Tonight Show. Now we get a glimpse of what she might have been like as a talk show host, thanks to comedy writer Alex Fernie and the actress Michaela Watkins, who terrifically impersonates the author below.
Advertisement

In any case, enjoy. And when you're done, check out George Saunders's account at The New Yorker of what it was like to be Ayn Rand's lover.
TODAY IN SLATE
The Extraordinary Amicus Brief That Attempts to Explain the Wu-Tang Clan to the Supreme Court Justices
The Human Need to Find Connections in Everything
It's the source of creativity and delusions. It can harm us more than it helps us.