Toy Story Goes Dubstep in a New Short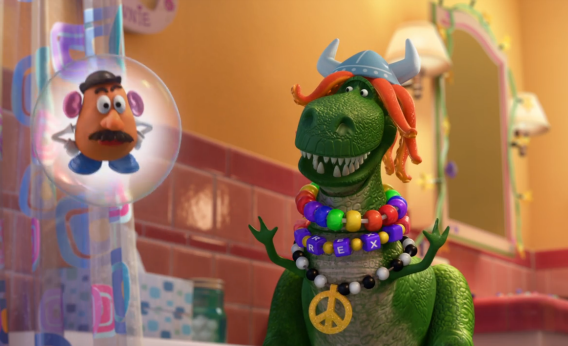 Playtime might be over for Toy Story when it comes to features—and thank the Claw that they went out in style—but for Pixar that doesn't mean the franchise can't explore whole other worlds of toys. Last year they released "Small Fry," which depicted the life of Happy Meal toys, and next year they'll release the Halloween holiday special Toy Story of Terror, which will presumably include some ghoulish trinkets.

For their latest short short, which is running in front on Finding Nemo 3D, Toy Story explores the world of bath toys: What happens when the party all dries up? With the help of Rex (voiced by Wallace Shawn), the tub is soon overflowing with a giant rave, complete with their own LMFAO-style party rock anthem that eventually wubs its way into dubstep.

I can't say that "Partysaurus Rex" has the wit or heft of the Toy Story features—some of the puns are real groaners—but if nothing else the "inconceivable" idea of Wallace Shawn (My Dinner With Andre, The Princess Bride) as a party animal almost can't help but be funny.