Looper Gets In-Theater Director's Commentary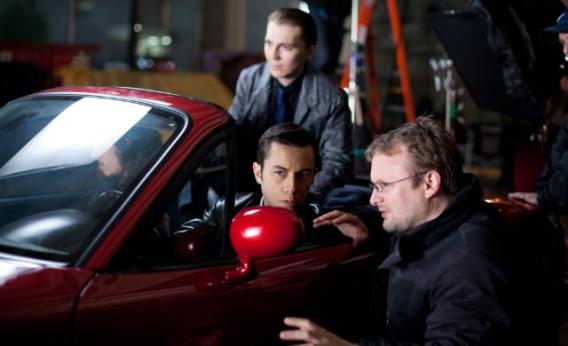 Fans who can't get enough of Looper now have another reason to head back to the theater. Just as he did for his previous feature The Brothers Bloom, director Rian Johnson has recorded a director's commentary that anyone can listen to in the theater. All you need to do is download the file below to your mp3 player or stream it to your phone. Johnson tells you when to start (at the third roar of the TriStar Pegasus!), and reminds you to keep any bright screens in your pockets. It's worth listening to both for Looper obsessives and those interested in the moviemaking process.
For those still puzzling out the film's twisty and twirly timeline, Johnson reveals some of the finer mechanics of how the plotting works. He also confirms that the clumsy henchman Kid Blue (Noah Segan) could be Jeff Daniels' characters' son—or at least that he's long enjoyed that theory. And we hear about some of the scenes that didn't make the final cut: For those looking for more of the "My Dinner With Me" scene from the diner, Johnson suggests that there will be much more on the DVD.
For those interested more in the magic of moviemaking, Johnson is particularly open about revealing his intentions—and explaining technical decisions in a way that's not too wonkish. When he talks about the film's lens flares, for example, he explains what an anamorphic lens is and why it results in lens flares that look more like horizontal lines.* He likes these lens flares because, as with certain other young filmmakers, they remind him of early Spielberg—though he tries to use them in moderation. And some of the lens flares are there for more pragmatic reasons: They're there to help us swallow the computer-generated effects. (Whenever possible, Johnson likes to use practical effects: The first telekinetic levitation effects, for example, were done just by hanging quarters from strings.)
Finally, of course, there are the Easter eggs. Johnson points out a callback he and his crew made to Brick. More adorably, he identifies the cameos he gave to his mom and dad. (His dad plays "Big Craig" and gets shot by Bruce Willis.)
Correction, Oct. 8, 2012: This post originally suggested that anamorphic lenses create lens flares that form vertical lines. The lens flares form horizontal lines.