New Godspeed You! Black Emperor Album Will Make Your Work Day Feel Epic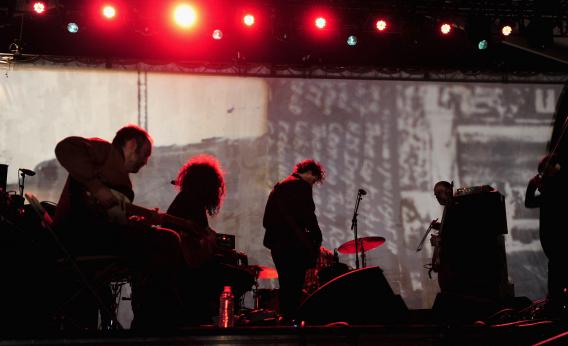 It's been almost a decade since Godspeed You! Black Emperor released an album, and the music of their return is appropriately dramatic. Godspeed emerged amid the mid-to-late '90s wave of post-rock, a loosely defined genre in which rock instruments are used to play mostly instrumental compositions, especially ones that gradually build through steady repetition into towering crescendos and feature bombastic album and song titles. In the decade they've been off many of the bands they grew up with and in some cases inspired—including Sigur Rós and Explosions in the Sky—have risen to play large theaters and provide the soundtrack for big time movies and TV shows and commercials.
The music of Godspeed's surprise return album—'Allelujah! Don't Bend! Ascend!, out Oct. 16—with its 20-minute tracks and skinny-fists-like-antennas-to-the-heavens climaxes, is as epic as ever. During the decade they've been on hiatus, many of their peers have moved towards tighter, more traditional song structures—and lyrics! in English!—but Godspeed is sticking to the same drones, spoken-word recordings, and noisy grand finales fans will remember from the band's heyday. This may be in part because, as Drowned In Sound points out, the two longer songs from the new album were in the band's repertoire before they ever went on break. The two shorter songs, on the other hand, stick to steadier hums of static and bagpipes without reaching for more rocking peaks.