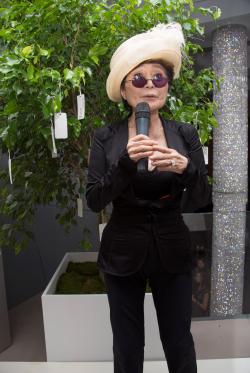 Imagine a world without a lot of easy jokes about Yoko Ono. It's … actually not that easy if you try.
Ono's relationship with John Lennon is destined to be the first thing—and often the last—that many people care to know about her. Blamed unfairly for the otherwise timely demise of a group of three strong personalities who were tiring of one another (plus Ringo), she's been just as unfairly dismissed as an artist—as though the only reason anyone ever worked with her or distributed her work was to get close to some of that late-'60s Beatles mojo.
That reductive take is perhaps best captured by The Simpsons episode in which Homer's barbershop quartet briefly inspires something like Beatlemania, until Barney's Japanese avant-garde girlfriend starts inspiring the adoption of musique concrète (a la "Revolution No. 9" on The White Album):
It's a fine parody, as far as it goes. But to hold onto such a dismissive portrait of Ono at the expense of the rest of her career, you have to decide quite a lot of other artists have either been dupes or bad-faith aesthetic actors. That list would include jazz legend Ornette Coleman, who played trumpet on Ono's version of Plastic Ono Band (released simultaneously with the Lennon solo record of the same name) and members of the Fluxus movement (whose works the Museum of Modern Art has been investing in of late).
And it's not as though Ono only made her way in that world after marrying Lennon, either. It's long been reported that Ono once performed with John Cage's retinue—it was mentioned, for instance, in the Cage biography I reviewed here at Slate—but sadly, there has been scant audio documentation of the period that predated John Lennon's attraction to the artist as a young woman. That changed earlier this month, with the release of a three-volume archival set of recordings preserved during Cage's tour through Japan back in 1962. The second disc (they are sold individually) features Ono contributing vocals to Cage's "26'55.988," which also includes two pianists and a string player.
The fidelity is rough but acceptable, especially for this repertoire, in which the pianos are struck as much as they are "played." Ono is not around merely to add to an already-in-progress sonic onslaught. Rather, she earns her place in the proceedings by offering vocal lines that pirouette between postures of sensuality and aggression, depending on what else she's hearing in the piece. At points, there are also hints of Ono's early-in-life classical vocal training, most traces of which she would later gleefully discard as a solo artist. The second excerpt provided by the Boomkat store's listing gives just a taste of Ono playing during Cage's 1962 tour:
That same CD also features a wilder-than-typical performance of Karlheinz Stockhausen's "Klavierstück X," courtesy of pianist David Tudor. But it's the Ono-assisted performance of Cage that makes it worth seeking out.
Similarly, Ono's participation on another new-to-market CD, YokoKimThurston, makes that recording one of the best experimental Sonic Youth side-projects—and there have been many—to come out in some time. Brokenhearted fans of the band who may be hoping for at least a creative reconciliation between Kim Gordon and Thurston Moore shouldn't get their hopes up based on their appearance with Ono here: YokoKimThurston was recorded in February 2011, before the couple's recent divorce. When Gordon and Moore told me about the anticipated project during a 2009 interview, they thought it might come out on SYR, Sonic Youth's boutique label for way-out-there experimentation.
Instead, Chimera Music is putting it out. Run in part by Ono's son Sean Lennon, it's the same label the family used in 2009 to put out Ono's best song-based album in a couple decades, Between My Head and the Sky. YokoKimThurston is, in contrast, not an album of songs: If you go in expecting pop forms—which Ono has also shown a facility for, over the years—you'll wind up frustrated, possibly cursing experimental art on the whole and feeling sad about the $10-$15 you just spent.
If you listen for texture, on the other hand, and for the unfolding of an experiment guided by expert experimenters, you'll find a lot on YokoKimThurston to hold your attention. Ono's delicate exploration of vocal technique on the mostly wordless-but-haunting opener, "I Missed You Listening," puts the lie to her screaming-only reputation. And when Gordon joins Ono for an odd sort of duet, we get two of avant-rock's most celebrated (and divisive) female vocalists working together for the first time. That needed to happen.
When Thurston Moore's poetic scraps turn up on "Running the Risk," they sound out of place. But he redeems himself with a guitar theme reminiscent of his work Sonic Youth's A Thousand Leaves. (He adds another good one to "Mirror Mirror.") There isn't a lot of out-and-out noise on the disc, but "Let's Get There" stands up to the best ambient freak-outs on old Ono LPs like Fly. The 15-minute closing track, "Early in the Morning," was released as a single to benefit charity earlier this year. I enjoyed it then, but it now seems less focused to me than the best material on the finished album. Yes, that's right: chance-based experimental music can feel focused! Yoko Ono's been at the forefront of that tradition for half a century now.