Is This a New Lady Gaga Song?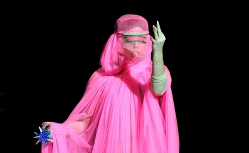 "Cake Like Lady Gaga (Burqa Swag)" is a new song supposedly performed by Lady Gaga. As Spin explains, Lady Gaga collaborator DJ White Shadow issued a musical challenge on Twitter, asking his followers to create an original song based on a hip-hop beat that he posted on Soundcloud. "Extra bonus points for whoever writes a song about @ladygaga," he added later. Soon afterward, an altered version of the song was tweeted by Lady Gaga's makeup artist. An enterprising listener raised the pitch, which had apparently been lowered, and ended up with a vocal track that sounds a lot like Lady Gaga. (Note: Lyrics decidedly NSFW.)
If it is in fact the self-proclaimed "Mother Monster," this is presumably an attempt at a light-hearted musical romp. While Lady Gaga has been known to court controversy—and the reference to "burqa swag" seems to echo some of her latest outfits—one hopes the song is merely an assault on one's eardrums, and not a misguided attempt to 'do hip-hop.'
Whatever the case may be, "Cake Like Lady Gaga" culls from the likes of Waka Flocka Flame and Soulja Boy, adopting their frequently misogynistic, violent, and self-aggrandizing lyrics to an astonishing degree. (It includes the lines: "Fuck your face, trick bitch / Fuck your life, trick bitch / I'm caked up and I'll fuck your wife / Fuck your life you bitch ass trick.")
Is she trying to highlight the awfulness of certain rap lyrics? Is this even Lady Gaga? If the answer to the second question is yes, I hope the answer to the first one is, too.